Reviews for Love Finds You in Snowball, Arkansas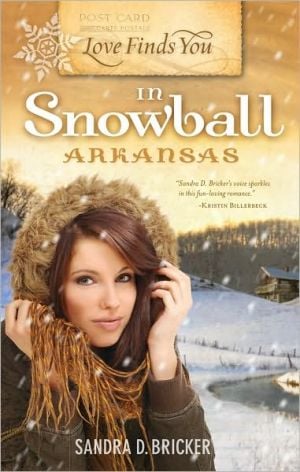 The average rating for Love Finds You in Snowball, Arkansas based on 2 reviews is 5 stars.
Review # 1 was written on 2009-07-25 00:00:00

Jeffry Kang
Love Finds You in Snowball Arkansas by Sandra Bricker is the laugh-out-loud funny story of un-athletic Lucy Binoche's attempt to capture the attention of the outdoorsy new guy in her church's singles group. When she learns Justin Gerard signed up for the group's weeklong camping trip to Snowball, Lucy adds her name to the list. Sporting new athletic wear and a can-do attitude, she embarks on an adventure, sure she can endure anything to attract Justin's attention. With the support and assistance of longtime friend, Matt, Lucy arrives in Snowball determined to become the gal of Justin's dreams. Sure he's the man God has for her, she puts her all into each activity. But she's in for surprises'and the reader is in for some serious laughs as Lucy learns that being loved for who she is rather than the person she's pretending to be is far more satisfying'and a whole lot safer. Bricker does a wonderful job of weaving fun into her romance. I was pulled into the story by her great writing and delighted by each new development. Each chapter is a treat. The characters are fun. I grew to care about Lucy even as I laughed at the situations in which she found herself. Two characters in particular are very engaging and are used by God to teach Lucy valuable lessons in love and acceptance. I thoroughly enjoyed Love Finds You in Snowball Arkansas and wholeheartedly recommend it to anyone wanting a fun, well-written, engaging inspirational romance.
---
Review # 2 was written on 2014-01-18 00:00:00

Shawn Hicks
This is my second time for reading this book. The first time, I found it to be a very funny read, and I can certainly see the elements where I would have found it so. This time around, I cried my way through it. I think I found different elements in it that touched me differently. That's the mark of a good book for me, that it makes one both laugh and cry. Lucy is a very misguided woman, who can't see the Lord's blessings right in front of her face. Matt is her best friend, but also secretly adores her. At the end of the book, it's mentioned that they can't see that they are in love with one another, and it's true! However, this book is the story of the journey that shows them that they do love one another. I loved seeing all the mishaps that Lucy got into trying to be someone that she wasn't. I loved how Matt was supportive of Lucy, even when she was doing something that went against what he wanted. It was a great story of friends to lovers, without that pesky sexual aspect. It is a Christian romance, and God does take a pretty prominent place in this book, but all in all it was a great read!
---
Login
|
Complaints
|
Blog
|
Games
|
Digital Media
|
Souls
|
Obituary
|
Contact Us
|
FAQ
CAN'T FIND WHAT YOU'RE LOOKING FOR? CLICK HERE!!!