Reviews for Zen Parenting: The Art of Learning What You Already Know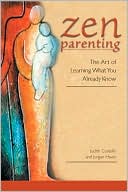 The average rating for Zen Parenting: The Art of Learning What You Already Know based on 2 reviews is 4 stars.
Review # 1 was written on 2020-01-20 00:00:00

Surinder Rakhra
I read this book based upon a review (in 2012 no less) that involved ways to help raise your kids in a mindful setting. I am Pagan by faith and a Buddhist by philosophy and at the time my 10-year-old (having issues with behavior) and 7-year-old (diagnosed autistic) were testing not only my patience but my ability as a parent. I looked all around for advice, help, or even just some relief but without finding it without, I started to look deeper within and it helped me so much in getting my head right. If you have a moment, read the short Huff Post article below and maybe give a listen to the titular podcast as well. Even if you are not philosophical (Buddhist, Zen or otherwise) you may find something that will help you move into a safe space.
---
Review # 2 was written on 2015-02-07 00:00:00

Jeremy Damstra
Simple, logical lessons on how to stay calm during everyday parenting.
---
Login
|
Complaints
|
Blog
|
Games
|
Digital Media
|
Souls
|
Obituary
|
Contact Us
|
FAQ
CAN'T FIND WHAT YOU'RE LOOKING FOR? CLICK HERE!!!