Reviews for Unwanted Dreams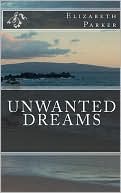 The average rating for Unwanted Dreams based on 2 reviews is 4.5 stars.
Review # 1 was written on 2014-02-28 00:00:00

Doug McKay
This wasn't without its mistakes but was still a very good story indeed and one I didn't want to put down (unlike the most recent Patricia Cornwell one I read)!! Alex and her husband Jack had a life others could only dream of. Good jobs, great health, etc...then it's all ruined in one traumatic night. I liked the way the author built up the story and what we we learning about Jack. So it made later events pretty unexpected. Cleverly done. I like that she used her own photography on the cover-good for her-and that proceeds of her books go to doggie-based charities. The mistakes did let it down, though, and cost it the 5 stars for me. "Him room in shambles" isn't terrific then this line-"...he gave her a big"......WHAT ?? Then "She them to a fifteen-by-fifteen". Words just dropped and you have to guess the missing one ! Of course, being an e-book there were the usual apostrophe errors and speechmarks also missing or where they weren't needed. A couple of lines spoken by a 15 year old didn't ring true to me, either. They weren't words a person of that age would have used to my way of thinking and nauseous isn't spelt nauseas. I cried near the ending, I must admit, and again AT the ending. I'd certainly read more by her and would recommend this despite the irritating mistakes.
---
Review # 2 was written on 2014-02-10 00:00:00

Ehren Slivinske
This is yet another amazing book by Elizabeth Parker. Adding her own twists to the crime fiction genre, Elizabeth has created a tale of a family and a serial killer that will keep you reading. She uses the mysterious bond between twins, the abuse suffered during the early childhood of a serial killer, and the love of family to present a story of crime and of love lost and found only to be lost once again. The mind and motivation of the killer is presented in a way that might get people to take a slightly different view of some murderers. This is one crime novel that does not get over-burdened with the forensics and law enforcement lingo which makes it an easy read. The way Elizabeth focuses mainly on the family and the killer creates a story that effectively weaves together both love and hate, good and evil. Anyone who wants a story that will be exciting and move your emotions should read this book.
---
Login
|
Complaints
|
Blog
|
Games
|
Digital Media
|
Souls
|
Obituary
|
Contact Us
|
FAQ
CAN'T FIND WHAT YOU'RE LOOKING FOR? CLICK HERE!!!