Reviews for Stealing Margo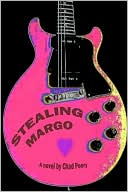 The average rating for Stealing Margo based on 2 reviews is 2.5 stars.
Review # 1 was written on 2011-07-30 00:00:00

Phil Phipps
I enjoyed this book every bit as much as Chad's other book "Smoking Jimi". Anyone who has ever played music for a living would love this book. Chad's combination of clever wordplay and "insider speak" concerning musicianship and the music business make for a very compelling read. Beside that, this book has a good bit of "emotional depth" and explores some very serious issues. Parts of this book are quite romantic as well :-) Personally, I LOVED the fact that Margo's father found solitude and comfort listening to Steppenwolf, as I still do after 40 years (they have been one of my favorite bands since I was 9 years old!). I also liked the fact that one of the pivotal chapters of the book took place in Nashville, my home town. I hope Chad Peery keeps writing books like this. He is an EXCEPTIONAL new talent who deserves to be very successful.
---
Review # 2 was written on 2009-08-11 00:00:00

Daniel Karst
... i adore wilder. such a force of simple language and heavy handed symbolism. he moves you with little because it is the language of solitude and silence, of recriminations and regrets, of dreaming and nightmares... it is the realization of never stopping.
---
Login
|
Complaints
|
Blog
|
Games
|
Digital Media
|
Souls
|
Obituary
|
Contact Us
|
FAQ
CAN'T FIND WHAT YOU'RE LOOKING FOR? CLICK HERE!!!