Reviews for Lady of Milkweed Manor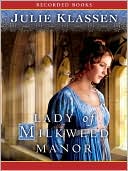 The average rating for Lady of Milkweed Manor based on 2 reviews is 3.5 stars.
Review # 1 was written on 2014-08-04 00:00:00

Rob Stevenson
I think I have a new favorite author...I'm more than halfway through her published books and haven't found a dud yet. This one was so interesting and unusual and well written that I stayed up way late (3 am) to read the whole thing in one sitting. One of the best things about Klassen's books (other than the excellent stories, characters, and writing) is the romance. It isn't all touchy-feely-overmuch-desire-y. The characters act like grown-ups and figure out how to communicate with each other in an adult way. And there isn't swooning over a shirtless man and a woman's incredible palpitations over such things. Yes, there are grown-up topics mentioned, but it isn't silly, and her heroes and heroines are attracted to each other for the qualities of their hearts. The focus is on the real-life issues, not just the "Let's get the hero/heroine hitched" aspect; often that feels almost like a side issue. As a result, the books feel authentic and realistic, as though they might really have happened. And I love the incredible historical details she includes! The tales in this book about the life of a wet-nurse of the day were fascinating.
---
Review # 2 was written on 2012-02-21 00:00:00

Brian Wauford
Julie Klassen writes well in a technical sense, but I found this story disturbing. Charlotte's predicament, the way she got into it, her miserable family situation, and all the strange and sad and sinister circumstances around her didn't make for a very pleasant tale. The period details were probably the most interesting part. Suspension of disbelief was too much work to be worthwhile. The ending was both predictable and extremely awkward; to jump from the heart of a dramatic climax to a garden scene some decades later and sneak the information about the resolution in almost in passing is NOT a technique I would recommend! It was almost as if, having made Charlotte's situation as agonizing and emotionally intense as possible over the course of the novel, the author suddenly ran out of ways to make things worse, and so dropped her into a happy ending of the cheesiest kind just to be done. I also missed any kind of good spiritual influences. The father was a pastor, but the type of pastor who deserves to be vilified; Charlotte did read parts of the Bible a few times; and other than that, nothing God-honoring stands out. The way the characters behaved, before, during, and after their various traumatic moments, left me uncertain whether any of them had any real religion, much less personal relationship with God, and I have serious questions as to the author's intentions along those lines!
---
Login
|
Complaints
|
Blog
|
Games
|
Digital Media
|
Souls
|
Obituary
|
Contact Us
|
FAQ
CAN'T FIND WHAT YOU'RE LOOKING FOR? CLICK HERE!!!