Reviews for Zombie Cross-Stitch: 12 Patterns to Raise the Dead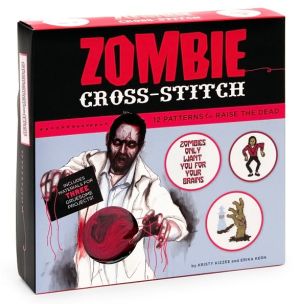 The average rating for Zombie Cross-Stitch: 12 Patterns to Raise the Dead based on 2 reviews is 4.5 stars.
Review # 1 was written on 2018-10-01 00:00:00

John Love
This really isn't a book, but it does come with an instruction booklet, so maybe that counts. Does the month of October get you excited for all things haunted? Are you anxious to decorate with ghosts and goblins and spiders? Are you a huge fan of "The Walking Dead"? Then this Zombie Cross-Stitch kit might just be for you. Create your own Zombie artwork to hang in your office, on your door, or, gasp! put on your baby's bib! This Zombie Cross-Stitch kit has all the materials you need to complete two projects but includes patterns for a dozen. Even if you have never cross-stitched before the book covers basic techniques and gives the simplest of instructions for even the beginning cross-stitcher. Even though I am not a huge Zombie fan, I did find this design fun! I used to cross-stitch back in my single days over 20+ years ago and found it relaxing and fun to watch the design appear before my eyes. It was also a way I could give gifts to friends with a personal touch. Each kit comes with an instruction booklet, needles, floss, fabric, and an embroidery hoop. If you decide to make more than two of the designs, you can easily go to Michaels, Hobby Lobby, or JoAnn's Fabrics to get more supplies. There are also plenty of YouTube videos out there to show you how to cross-stitch if you are a first-timer. If you would like to see photos of the kit and enter to win your own kit, (giveaway ends October 8, 2018) head to my blog -
---
Review # 2 was written on 2019-05-05 00:00:00

Justin Zucchiatti
Here is the deal, if you are like me and are secretly an 80-year-old woman living in the body of someone who is barely 30, then this might be the perfect gift for you. Zombie Cross-StitchZombie Cross-Stitch is honestly everything I wanted growing up. You know, in a time before Etsy and Pinterest, where if I wanted to do a horror themed cross-stitch, I had to figure it out myself. Yeah, those garbage days are done. With the help of this set you can create two cross stitches with leftovers for another one if you can find more Aida cloth. Which you can at like any crafting or sewing store. In Canada, we go to a place called Michaels; I don't know where you dummies in USA go. Walmart? I don't know, figure it out yourself. You can read Ali's entire review at Horror DNA by clicking here.
---
Login
|
Complaints
|
Blog
|
Games
|
Digital Media
|
Souls
|
Obituary
|
Contact Us
|
FAQ
CAN'T FIND WHAT YOU'RE LOOKING FOR? CLICK HERE!!!