Reviews for The Wadsworth Themes American Literature Series, 1945-Present, Theme 19: Exploring Gender and Sexual Norms, Vol. 5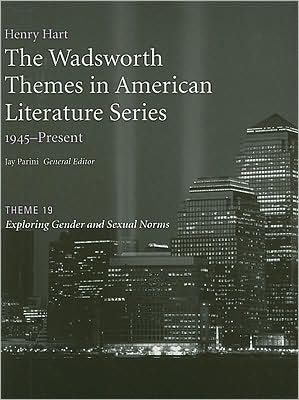 The average rating for The Wadsworth Themes American Literature Series, 1945-Present, Theme 19: Exploring Gender and Sexual Norms, Vol. 5 based on 2 reviews is 3 stars.
Review # 1 was written on 2010-12-30 00:00:00

Adahlia Cowan
Overall, an excellent collection. Highlights by order of appearance: Gretel Ehrlich's "The Endless Hunt" - about her experiences on the ice with her Greenland Inuit friends as they hunt for food. Harrowing stories. Anthony Lane's "The Maria Problem" - A review of the "Singalong-a-Sound-of-Music" event along with an "appreciation" of the movie musical. Rian Malan's "In the Jungle" - amazing in-depth investigation that uncovers one of pop music's great mysteries and tragedies. Robert Kurson's "My Favorite Teacher" - Kurson tries to grapple with the fact that his high school biology teacher and role model is a serial sex offender convicted of murdering a teenage hitchhiker. David Foster Wallace's "The Weasel, Twelve Monkeys and the Shrub" - a dense yet incisive look at the 2000 McCain presidential campaign and what it means to be a journalist covering it, what it means to be a potential voter caught in it. A stark contrast to his 2008 campaign. Malcolm Gladwell's "The Pitchman" - a profile that is as engaging as its subject, Ron Popeil. William Langewiesche's "The Million-Dollar Nose" - another profile, but accordingly, of a different flavor that is no less interesting than Popeil. This one is on the influential American wine critic, Robert Parker. Elizabeth Gilbert's "The Ghost" - an amazing look at Hank Williams III and his struggles to deal with his grandfather and father's legacy while marking his own path as a musician. Lewis H. Lapham's "Stupor Mundi" - a wonderful essay on Patrick O'Brian, author of the "Master & Commander" series. This can induce anyone to seek out O'Brian's work. Donna Tartt's "The Glory of J.F. Powers" - a critical essay/review that coincides with the reprint of Powers' stories, which had a decidedly unromantic view of priests and the Catholic church. Also worth reading for certain aspects: Bill Vaughn's "Skating Backwards" - a humorous chronicle of Vaughn's efforts to transform a patch of polluted swamp into a cozy, clean pond. Sean Flynn's "The Perfect Fire" - a tragic tale of a warehouse fire that claimed the lives of six firefighters. Anne Fadiman's "Mail" - a personal essay on handwritten letters just as email began to take over people's lives via AOL. Robert Olen Butler's "Fair Warning" - a short story about a young female auctioneer who can sell anything yet cannot find love. Donald L. Barrett and James B. Steele's "Big Money & Politics," "Soaked by Congress," Throwing the Game" - a series of articles that examines how campaign finance and lobbying efforts prove detrimental to the average US citizen. Jonathan Gold's "Paris on the Hudson" - a fun review of New York's Pastis restaurant. James Wolcott's "Forever Young" - a critical appreciation for the work and legacy of the singer and entertainer, Bobby Darin.
---
Review # 2 was written on 2018-11-04 00:00:00

Randall Merager
the articles that stood our for me were: david foster wallace's "the weasel, the twelve monkeys, and the shrub," a chronicle of his travels following the press junket of john mccain during his presidential bid. rian malan's "in the jungle," an investigation into the ownership and authorship of the evolution of the token's hit "the lion sleeps tonight," beginning with the african origins of "mbube," an improvised melody and lyric by solomon linda in 1939. highly relevant, considering today's practice of sampling and reworking songs. elizabeth gilbert's "the ghost," her portrait of hank williams III and his cathartic struggle to both embrace and emerge from his unavoidable legacy and likeness of his incomparable grandfather. malcolm gladwell's, "the pitchman," drew me in completely, despite my lack of interest in its subject, ron popeil, a self-made TV infomercial salesman. gladwell's commentary on popeil's psyche and complete mastery of the pitch is fascinating. anthony lane's "the maria problem," his hilarious account of a rocky horror picture show type sing-along and viewing and his ode to one of the genre's most defining musicals was engaging and nostalgic, and did a wonderful job of describing what i have long observed, that certain musicals attract a certain type of fans. robert kurson's "my favorite teacher" a personal account of kurson trying to come to terms with the revelation that his former high school teacher and mentor is a convicted sex offender and murderer struck a personal note with me as he tries to determine what qualities in the man are still worth respect, and if there was something flawed in his own judgment and personality for revering someone who was so ultimately disturbed. anne fadiman's "mail," a timely tribute to the "lost art of correspondence" and handwritten letters amongst the age of email. as someone who is often mocked for my "excessively lengthy" or "rambling" missives to friends, this essay convinced me that i am not crazy, nor do i "have too much time on my hands," i just belong to time when a well-thought-out and topical letter that took both effort and intelligence to execute was apprecited and a credit to the mind and achievement of the sender.
---
Login
|
Complaints
|
Blog
|
Games
|
Digital Media
|
Souls
|
Obituary
|
Contact Us
|
FAQ
CAN'T FIND WHAT YOU'RE LOOKING FOR? CLICK HERE!!!