Reviews for Rachel's Secret (Riverhaven Years Series #1)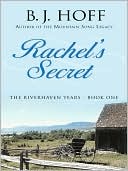 The average rating for Rachel's Secret (Riverhaven Years Series #1) based on 2 reviews is 4 stars.
Review # 1 was written on 2012-02-08 00:00:00

Michael Seaton
This is the first Amish historical I've read. It definitely was a different style of story from what I'm used to with Amish fiction/romance, and I have to say, it was a really enjoyable read. Like most Amish stories there's a lot of drama involving the characters and the Englischers. In this case, an Irishman is shot and seeks the help of Rachel and her family. Jeremiah Gant is a conductor on the underground railroad, that in itself brings a whole new spin one what to expect in Amish fiction. A lot of the story deals with the persecution of the Amish in the Riverhaven area. Rachel's husband was a victim of a violent act of hatred. When the violence starts again, families are torn apart, because the Amish believe in forgiveness and not revenge. B.J. Hoff does a wonderful job describing how the Amish live and their beliefs. I also loved the two romances that bloom in this story, although only one comes to anything so far. It was really easy to get wrapped up in the lives of the characters, each had something special that is brought to the story, whether it is Asa, the free man of color, helping Jeremiah with the Underground Railroad, Doc Sebastian and his secret love for Rachel's mother Susan, Fannie, Rachel's sister and Gideon her brother. These are character's you really feel like you know. I look forward to reading the next two books in this trilogy!
---
Review # 2 was written on 2013-04-20 00:00:00

Jay Posada
This is an historical novel, set in the time of the Underground Railroad. It was the first time I read an Amish fiction novel that was not set within the past 75 years, and to be honest, it was hard to remember for the most part that this was set in the 1850s. I did enjoy reading the parts about Asa and Gant's work on the Underground Railroad, and that helped me remember when this novel is set. I enjoyed the story for the most part, but it didn't grab me like other novels I've recently read. Maybe I'll finish the series at a later date, but it will not be high on my to-read list.
---
Login
|
Complaints
|
Blog
|
Games
|
Digital Media
|
Souls
|
Obituary
|
Contact Us
|
FAQ
CAN'T FIND WHAT YOU'RE LOOKING FOR? CLICK HERE!!!