Reviews for Kiss the Moon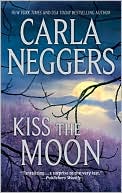 The average rating for Kiss the Moon based on 2 reviews is 3.5 stars.
Review # 1 was written on 2008-07-19 00:00:00

Steve Smith
Deep in the woods of New Hampshire, Penelope Chestnut finds the wreckage of an old plane. Rumors of the discovery bring Wyatt Sinclair, who's determined to put to rest a family scandal about his legendary uncle. But an unknown enemy emerges from the past, and desperation to uncover the truth is the only thing that can save them. I've been a Neggers fan for years, and this wasn't a let down. I bought this not realizing it's an older title and I read it once before. I read it again to refresh, and loved it just as much as the first time. The setting was well-illustrated and the action/suspense intriguing. Best of all, the readers won't be disappointed by a neat bow at the end of the book. Strong conflict, characters to root for, and a steady romance make this hard to put down. Highly recommended.
---
Review # 2 was written on 2020-10-11 00:00:00

Isidro Castro
Just as the stars say; it was okay. And I was glad I finished it. It kept me interested enough to keep going, but I wouldn't have been upset if I lost the book mid-way. It may be because these aren't my kind of books. I'm more into made-up fantasy or historical novels....which, speaking of the latter; I was more interested in that storyline in this book. I liked the overall plot: The history was cool, the basic mystery was okay, and the ending was...ehh. I kind of guessed part of it, however, the last twist she pulls you through was so irritating because it was almost unguessable. I like it much more when authors give you subtle clues throughout, and when you finally figure out "whodunnit" you have that squinty-eyes-at-the-ceiling "Ahhhh!" moment. Also, I liked how the romance wasn't in-your-face too much, however the dialogue was. Very one-liner-ish as well as too-romantic things a man would never say to a woman. I almost started laughing at some serious romantic parts because if I was told some of those things I would just laugh. Of course, it IS romantic, but if men say that stuff out loud it becomes silly and boyish. Anyway...there ya go.
---
Login
|
Complaints
|
Blog
|
Games
|
Digital Media
|
Souls
|
Obituary
|
Contact Us
|
FAQ
CAN'T FIND WHAT YOU'RE LOOKING FOR? CLICK HERE!!!