Reviews for Late Night Talking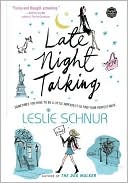 The average rating for Late Night Talking based on 2 reviews is 3 stars.
Review # 1 was written on 2020-07-11 00:00:00

Charles Pipkin
Used a slur within first 3/4 pages. Not reading.
---
Review # 2 was written on 2013-01-13 00:00:00

Edward Cox
My eyebags is finally worth it. :) this is my favorite book so far. a very realistic story. choosing between love ones or friends, a marvellous achievements of jeannie, i really love the moment when mouse the dog who always steal the undies of jeanie that was so funny LOL. revealing in late night radio show of all the bad behaviors who lives in NYC is so freaking embarrass. that book was so cool,learned lesson at the end :')
---
Login
|
Complaints
|
Blog
|
Games
|
Digital Media
|
Souls
|
Obituary
|
Contact Us
|
FAQ
CAN'T FIND WHAT YOU'RE LOOKING FOR? CLICK HERE!!!