Reviews for Reporting the Universe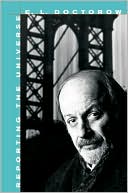 The average rating for Reporting the Universe based on 2 reviews is 3 stars.
Review # 1 was written on 2012-10-21 00:00:00

Arianna Lamarre
Two things to ponder regarding the great Doctorow's treatise on writing-as-religiosity: 1. "It is as if piety itself has a flawed circuit that tends to blow, and the devotion to God becomes the will to power" (p. 90). 2. On current political discord: "The instructive image is from Dante's "Inferno," Canto XXV. We are in a pouch of the Eighth Circle, where the thieves reside. A typical transaction occurs between a thief and one of Hell's manifestations, in this case a monstrous six-legged lizard-like creature who leaps onto a thief, wraps its middle feet around its belly, pins his two arms with its forelegs, and, wrapping its rear feet aound his knees, swings its tail up between his legs and sinks its teeth into his face. And so intertwined, the monster and thief, they begin to melt into one another like hot wax, their two heads joining, their substances merging, until a new third creature is created though somehow redolent of both of them. And it slowly slithers away into the darkness" (p. 106). And yet, this book is about writing. Brilliant.
---
Review # 2 was written on 2017-07-07 00:00:00

Jesse Ouellette
The biographical bits about childhood and Kenyon were lovely, but musings on religion and politics just left me cold.
---
Login
|
Complaints
|
Blog
|
Games
|
Digital Media
|
Souls
|
Obituary
|
Contact Us
|
FAQ
CAN'T FIND WHAT YOU'RE LOOKING FOR? CLICK HERE!!!