Reviews for Killer Insight (Psychic Eye Series #4)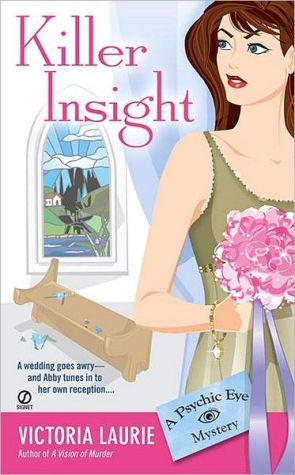 The average rating for Killer Insight (Psychic Eye Series #4) based on 2 reviews is 4.5 stars.
Review # 1 was written on 2015-06-27 00:00:00

SINTHYA SALENAS
My 3rd time reading this book and still love it. I'm glad Abby let herself see what could happen with Duffy. After the way Dutch had treated her, she had every right to do that. I did think it was a convenient ending. I didn't buy that Dutch would be so forgiving. It made me wonder what he'd been up to while they were apart and since we only get Abby's POV, we just don't know. One thing that bothered me this time around was the constant warning to the reader that something was going to happen. At the end of half the chapters is was something like, "Little did I know that...." Something bad was going to happen. It got old and took me out of the experience. Basically, it reminded me I was reading a story instead of experiencing. I don't think I was bothered by it the first time around because I didn't know what was going to happen and now that I did, I was more critical. I'm nit picking. Love the series and I love Abby. At this point I wasn't sure Abby should be with Dutch, but I know I grow to think differently.
---
Review # 2 was written on 2011-06-16 00:00:00

James Brice
How Abby gets herself into these situations, I will never know. Victoria Laurie delivers yet another charming edition to her psychic eye series. In Killer Insight, Abby Cooper, professional psychic, finds herself flying to a friends wedding to fill in for a newly missing bridesmaid after breaking up with her boyfriend, FBI agent Dutch Rivers. It doesn't take long for Abby's crew to start singing, and Abby soon realizes that the bridesmaid she's filling in for isn't missing, she's dead. She pairs up with the bride-to-be's older brother (who she may or may not have a one night stand with...I'm not telling!) to solve the murders. In the process she paints a very large bulls-eye on her back. For any of you who have read some of my earlier reviews on previous books in this series, you'll be aware of the fact that I'm not exactly in love with Dutch. In fact, he's not my cup of tea at all. Most of the time I'm urging Abby to break up with him in my head. So, it surprised me when I almost cried when they broke up at the beginning of the book. (I say almost as I was on the bus and put the book away quickly before I embarrassed myself). This goes to prove just how good of a write Laurie is. She made that scene so realistic for me. Nothing in it seemed outlandish, or even made me roll my eyes. It was perfectly written. Good enough to get someone who didn't even think the two of them belonged together to shed a tear over the thought of them losing each other. That was just one of the examples of her great writing skills that were in this book. I believe it to be one of the better in the series thus far (and I'm looking forward to reading more!) My recommendations: If you haven't read any of the Abby Cooper books, start with the first one and don't stop! If you have read all of them up until now, and wondering if you should continue...what are you thinking? Pick up the next one and get reading!!
---
Login
|
Complaints
|
Blog
|
Games
|
Digital Media
|
Souls
|
Obituary
|
Contact Us
|
FAQ
CAN'T FIND WHAT YOU'RE LOOKING FOR? CLICK HERE!!!