Reviews for Un vecino poco amistoso (An Unkind Neighbor) (Harlequin Deseo Series)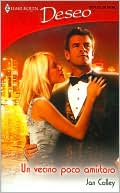 The average rating for Un vecino poco amistoso (An Unkind Neighbor) (Harlequin Deseo Series) based on 2 reviews is 3.5 stars.
Review # 1 was written on 2011-01-17 00:00:00

Christiaan Starrenburg
Ever since the accident 10 years ago, Conner Bannerman has not been a fan of the media in anyway. So when TV presenter, Eve Drumm, moves in next door he is none to happy. Coming off of losing a job she loved and a divorce from a man who couldn't be faithful, Eve was shell shocked when her neighbor immediately offered to buy her house the week she moved in. Not only is she a reporter, but she also won't sell him her house. Owning a construction company now, he just built his dream house up the hill far from the rest of the town, her house is right in the view of his living room window. Something he wants to remedy by bulldozing it. He soon realizes her refusing to sell her house may be the least of his problems,for she is determined to ruin the career of the mayoral candidate that he is supporting in order to have his multimillion-dollar stadium built. Pete Scanlon has cost Eve too much for her to let him get away with becoming mayor. From losing her job because of her beliefs about him to past encounters between them when she was younger. As the election comes closer, Conn soon realizes his candidate is not who he thought. Not only that, but perky Eve is slowly getting to him. Showing him life doesn't have to end because of the accident. Soon he discovers he loves having her in his life. Hearing whatever music she has on in the background and she even begins bridging the gap back together between him and his parents. After convincing Conn to let her do a TV segment about his plans for the Stadium, Eve believes eventually Conn with come to love her as much as she does him. However, soon after her segment comes on, a negative one soon airs bring back images of his crash and landing low blows about their relationship. Suddenly, Eve can't reach Conn anymore for he has gone back into his shell and leaves. Unlike in the past, Conn realizes he can't stand the quiet. Realizes he misses everything about Eve and when he receives papers indicating she was finally selling her house to him, he felt no better and knows he must go get her. Finally confronting Eve, Conn bears his soul to her. Not only admitting all she brings to his life, but what all he wants them to add to their life together. Including kids she's always wanted since she lost her daughter Betty at birth. All in all a very touching ending.
---
Review # 2 was written on 2013-10-07 00:00:00

Melanie Innes
I loved this book. Think "What Happens in Vegas" meets the unrated version of "Knocked Up." Tons of fun and twists and turns, but best of all - a very, very happy ending.
---
Login
|
Complaints
|
Blog
|
Games
|
Digital Media
|
Souls
|
Obituary
|
Contact Us
|
FAQ
CAN'T FIND WHAT YOU'RE LOOKING FOR? CLICK HERE!!!