Reviews for You're Not You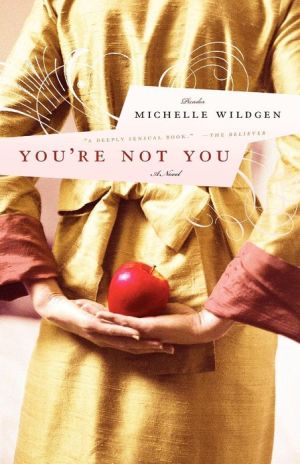 The average rating for You're Not You based on 2 reviews is 4.5 stars.
Review # 1 was written on 2009-10-13 00:00:00

George Magalios
Okay, I'm writing a more thorough review of this book b/c I did a little search on others' thoughts and actually found some people giving this book one star. That's just ridiculous. Maybe the subject matter isn't for everyone - it's about the relationship between a college student and the thirtysomething woman suffering from ALS that she cares for - but to imply in any way that this book is not extraordinarily crafted and beautifully written is just absurd. I read a LOT of books, and I'm not above enjoying a great yarn regardless of true writing capability, but this book is really a cut above just in terms of literary precision. To factor in that this is a debut novel is even more astounding. All that being said, I also personally found the story riveting, truthful and yes, heartbreaking...but also uplifting. The depictions of ALS's ravaging of the human body in the book are brutal, but also thoughtful and honest and even humorous at times, which pleasantly surprised me. I am not a cook, but I finished this book determined to begin saving for my first five course, gourmet restaurant experience...anyone who appreciates food will salivate many times while reading this novel. Lastly, I read more than one review that thought the relationship between the two women was improbable and the transformation of the college character ultimately unbelievable. I don't know what to say to that except I strongly disagree. Even when this book took me to places I didn't expect, I followed. I alternately laughed, cried, and felt really hungry/angry/sad/euphoric while reading this book, which to me is a rare gift. If you too are a voracious reader that cherishes a new author discovery, check this book out and then let me know what you think. Perhaps it won't be your cup of tea. But like it or not, this is a book that deserves to be read.
---
Review # 2 was written on 2011-05-22 00:00:00

Matthieu Tardif
Michelle Wildgen's YOU'RE NOT YOU is the perfect book for readers who like to tackle novels with thought-provoking, grey-area topics. Warning: this is not a light read, as it addresses terminal, progressive illness and how the afflicted and the spouse must deal with the stark realities forced upon them. The author has created so much more than that, though - offering humor, strength and the power of choice to her strong female characters. At the heart of this book is Bec, an ambivalent college woman who takes a caregiving job for a young woman in her thirties, Kate, with Lou Gehrig's disease. Both are thrust into circumstances that force them to grow and to accept realities outside of their control - and, ultimately, to make life-changing decisions for themselves. Favoring tough, emotional novels of this sort, I found this novel fulfilling on many levels. And despite the heavy topic, the writing wasn't overly sentimental. This is a story about lessons learned, friendship, journeys into the unknown - and even female sensuality. Fans of "foodie lit" will also find this novel a satisfying dish as it artfully reveals the role of cooking/eating, and its ties to emotional fulfillment. Both heartbreaking and empowering, this is a novel that will stick with me for a long, long time to come
---
Login
|
Complaints
|
Blog
|
Games
|
Digital Media
|
Souls
|
Obituary
|
Contact Us
|
FAQ
CAN'T FIND WHAT YOU'RE LOOKING FOR? CLICK HERE!!!