Reviews for Last Voyages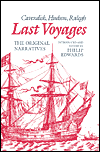 The average rating for Last Voyages based on 2 reviews is 4 stars.
Review # 1 was written on 2017-11-18 00:00:00

Andrew Andrews
This was a really good textbook for my medieval class - it has some help in the beginning and end for learning middle English and I may look into it more when I have time but it also contains excerpts from several important medieval works in the original middle English including but not limited to: Sir Gawain and the Green Knight Pearl Patience Layamon's Brut The York Play of the Crucifixion A Dialogue between a Lord and a Clerk Ancrene Wisse The Peterborough Chronicles Some of them are really hard to read in Middle English but you can find links to translations into English of many of them.
---
Review # 2 was written on 2011-01-21 00:00:00

Robin Brown
4 stars We used this for my Intro to ME Lit course in grad school. I haven't read many other ME anthology textbooks to compare, but I think Burrows' book served very well. This contains excerpts of major ME texts from 1100-1400, including religious, legal, fictional, & poetic works. The selections include texts by authors who wrote in various geographic locations as well, so you get a nice variety of regional dialects. The downside to having selections & excerpts is that I got to read snippets & scenes of several compelling stories with no easy way to read the endings!! I was in agony for months not knowing the ending to Havelok The Dane!! Fortunately, my professor told me about the Early English Text Society which publishes facsimiles & prints of OE and ME texts out of Oxford University Press. I am currently building out my collection, buying a few volumes per year. It's a great deal to join the society if you're interested! You get discounts & newsletters & such. Also in this textbook is a nice glossary of many of the vocab words in the original texts. (For a larger dictionary, the U of Michigan has a free online one; it's a work in progress as they are continuing to compile it, but it has been massively helpful to me!) At the front of the textbook are basic notes on grammar, pronunciation, regional dialects, and the vowel shifts & grammatical simplifications that happened during the ME period. My professor used these, along with many other supplemental handouts. He approved of the regional dialect maps provided, but added some nuances for our class. (I also supplemented these with some more in-depth ME grammar textbooks from the uni library.) All in all, this was a great introductory textbook for me. If you're brand new to ME & are studying on your own, I recommend you find other grammar/technical resources to read alongside this book as you study.
---
Login
|
Complaints
|
Blog
|
Games
|
Digital Media
|
Souls
|
Obituary
|
Contact Us
|
FAQ
CAN'T FIND WHAT YOU'RE LOOKING FOR? CLICK HERE!!!