Reviews for Maggie, a Girl of the Streets and Other New York Writings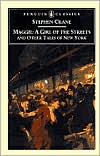 The average rating for Maggie, a Girl of the Streets and Other New York Writings based on 2 reviews is 3.5 stars.
Review # 1 was written on 2012-09-13 00:00:00

Kevin Sackett
One thing a reader would instantly see in Crane's works is the vividness of his prose. Maggie is, without doubt, one of the most intensely animated writings I have ever read, classic or modern. The setting is so overpoweringly real and natural that reading just the first three chapters easily transported me into a place so poor and deprived that my heart just went out for Maggie and Jimmie as if they were real children. What is missing in the narrative, however, is the depth of characterization. It is not clear how Maggie, and Jimmie, has been affected psychologically and emotionally by her environment. Is she really a "bad" child/person? What are her motives for running away? Is she really in love with Pete? Maggie is definitely overwhelmed by Pete's "magnificence", but her actions and thoughts barely go beyond this impression. What are her greatest fears? Her dream? These are missing. Nothing is also said about how she actually meets her fate at the end of the story. In the process, the story didn't read complete. I actually felt disappointed when I reached the last chapter.
---
Review # 2 was written on 2016-01-26 00:00:00

James Schiavi
This is my first experience with Crane and I was pleasantly surprised. His writing is imbued with what appears now as a fresh-faced, never terribly stark, realism and a playful hilarity that underscores the banal Bowery life of the 1890s. Crane lived there as a young man briefly and his observations on and fictionalizing of the weird panoply of characters and events he must've based these stories off of never gets old. I'm reminded particularly of the urban lilt of Zola, of fictions that cut to the nitty-gritty and woo and inspire. Life then, as now, was shitty and Crane shines best when he's describing to us a fire on a narrow street, homeless men in a line in a blizzard waiting for the soup kitchen to open or, as in the title story, a neglected and desperate young woman seeks succor in the "successful" friend of her brother.
---
Login
|
Complaints
|
Blog
|
Games
|
Digital Media
|
Souls
|
Obituary
|
Contact Us
|
FAQ
CAN'T FIND WHAT YOU'RE LOOKING FOR? CLICK HERE!!!