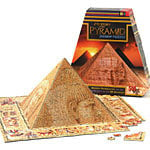 Mystery of the Pyramid

Title:

Mystery of the Pyramid


Pieces: 504

Size: Height = 18 inches
Width = 18 inches
Depth = 18 inches

Manufacturer:

Buffalo


Item Number: 00201

This is very special 3D jigsaw puzzle game. Used buried clues to assemble a 3D Pyramid. Hidden hieroglyphics in the archaeological site are the only clues you will have to correctly assemble this puzzle. As each piece is assembled, Egyptian portraits come to life.