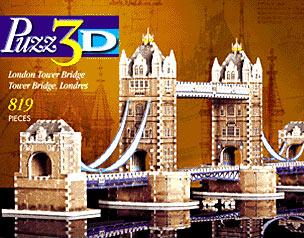 London Tower Bridge

Title:

London Tower Bridge


Pieces: 819

Size: Height = 13.75 inches
Width = 8.5 inches
Depth = 41.75 inches

Manufacturer:

Wrebbit


Item Number: P3D-911

Opened in 1894, London's Tower Bridge is a true historical monument. The bridge was erected at a time when the River Thames bustled with activity as England's main artery of transportation. Nowadays thousands of tourists visit the bridge. The upper section of the bridge is made up of raised, fully enclosed passages and can be reached by elevator. The missle of Tower Bridge opens several times a week so that ships with high masts can pass through.