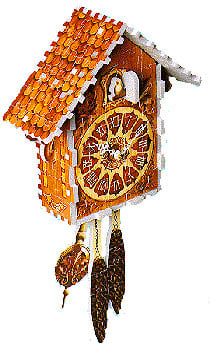 Cuckoo Clock

Title:

Cuckoo Clock


Pieces: 247

Size: Height = 20 inches
Width = 5.5 inches
Depth = 2 inches

Manufacturer:

Wrebbit


Item Number: P3D-5001

A 3D puzzle of a Cuckoo Clock that really works. Manufactured by Wrebbit.

The cuckoo clock originated in the Black Forest, a region in the south of Germany noted for its clockmaking traditions. Franz Anton Ketterer, a craftsman from the town of Schonwald, developed it in the middle of the 18th century. The width driven cuckoo clock quickly gained popularity. In fact, as early as 1808, there were 688 clockmakers and 582 clock peddlers in the region. In about 1850, the clock's casing assumed the shape and appearance with which we associate cuckoo clocks today. Friedrich Eisenlohr came up with the idea of a box to house the bird. Several decorative elements have since been added to the clock's casing.

Featuring a gable trimmed with meticulously hand-sculpted leaves and pinecones, this clock is a true work of art. The pinecones, which add a beautiful touch to the pendulum, also serve as weights – one of the clock's winding mechanism and the other for the bird song. Two paper bellows, activated by metal rods, blow air into the whistles that release a sweet-sounding "coo-coo" as the charming bird appears.