| | |
| --- | --- |
| | |
Women Writing the West Indies, 1804 written by O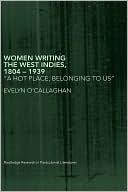 Book Buying Options
Buy Digital Book
Only $120.00

Title:
Women Writing the West Indies, 1804
Category:
Literature
>>
Collections

Author:

O


Publisher:

Taylor & Francis, Inc.


Date Published: September 2003
ISBN-13:

9780415288835


ISBN-10: 0415288835
Synopsis:
This pioneering study of previously unknown or marginal West Indian writing by women queries the accepted wisdom that women's voices were absent from the narrative record unti lthe late twentieth century. It demonstrates that while only a few texts by non-white women have survived, there does exist an eclectic body of work by white women, expatriate, resident and Creole. Surveying a sample of fascinating material from novels, stories and homilies, memoirs, letters, travel journals and autobiographies, the book focuses on who these women were and what kind of narratives they produced. It also asks whether these can be subsumed under a single classificatory label, "West Indian Women's writing," and how the narratives cosntruct the region, for those at home and those at the centre, during a particularly important period in the formulation of West Indian and English Identities.

The scope and depth fo this study make this book essential reading for students and academics within the fields of colonial, post-colonial, feminist and Caribbean literary history.
Table of Contents:
| | | |
| --- | --- | --- |
| | Acknowledgments | |
| | Introduction | 1 |
| 1 | Defamiliarizing "the mistress": representations of white women in the West Indies | 17 |
| 2 | "With the utmost familiarity": black and white women | 40 |
| 3 | "This is another world": travel narratives, women and the construction of tropical landscape | 58 |
| 4 | A female "El Dorado" | 92 |
| 5 | Narratives of tainted empire | 118 |
| 6 | Colonial discourse and the subaltern's voice | 142 |
| | Afterword | 174 |
| | Notes | 181 |
| | Bibliography | 200 |
| | Index | 215 |