| | |
| --- | --- |
| | |
Titanica: The Disaster of the Century in Poetry, Song and Prose written by Steven Biel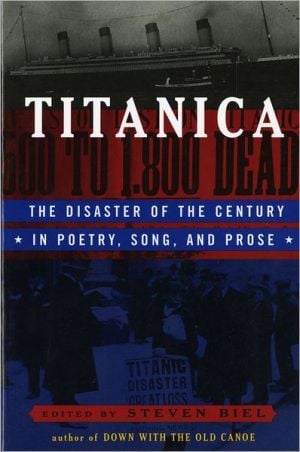 Book Buying Options
Buy Digital Book
Only $11.00

Title:
Titanica: The Disaster of the Century in Poetry, Song and Prose
Category:
Anthologies
>>
Literature
Category:
American Literature Anthologies

Author:

Steven Biel


Publisher:

Norton, W. W. & Company, Inc.


Date Published: September 1998
Edition:

1 ED


Pages: 128
ISBN-13:

9780393318739


ISBN-10: 0393318737
Overview:
Now Steven Biel, author of the acclaimed Down with the Old Canoe, has gathered some of the most telling of our culture's responses to this unparalleled tragedy, creating an invaluable sourcebook for anyone who wants to discover first-hand what people made of it, both then and now. Biel is today's best-known authority on the place of the Titanic in American culture, and this book's unique appeal—inviting both the generally curious reader to browse its pages, and rewarding Titanic buffs with many authentic gems—makes it a standout in the Titanic literature.
Synopsis:
In the ninety years since the Titanic sank, countless sermons and editorials, poems, songs and ads, socialists and chauvinists, Christians, reformers, anarchists, and pitchmen have drawn on the power of the century's worst disaster to move their audience.