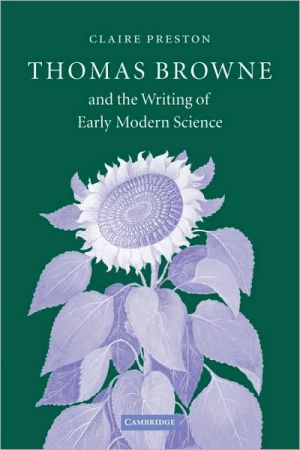 Title:
Thomas Browne and the Writing of Early Modern Science

Author:

Claire Preston


Publisher:

Cambridge University Press


Date Published: January 2009
Pages: 268
ISBN-13:

9780521107792


ISBN-10: 0521107792
Book Buying Options
Buy Digital Book
Only $39.99

Buy Audio Book
Only $79.98

Overview:
Claire Preston argues that Thomas Browne's work can be fully understood only within the range of disciplines and practices associated with natural philosophy and early modern empiricism. In this major new evaluation of Browne's oeuvre, Preston examines how the developing essay form, the discourse of scientific experiment, and above all Bacon's model of intellectual progress and cooperation determined the unique character of Browne's contributions to early modern literature, science and philosophy.
Synopsis:
A major new critical evaluation of Thomas Browne's oeuvre in literature, science and philosophy.
Table of Contents:
| | | |
| --- | --- | --- |
| 1 | Browne's civility | 10 |
| 2 | Religio Medici : the junior endeavour | 42 |
| 3 | The civil monument : Pseudodoxia Epidemica and investigative culture | 82 |
| 4 | The laureate of the grave : Urne-Buriall and the failure of memory | 123 |
| 5 | The jocund cabinet and the melancholy museum : a brief excursion into Brownean comedy | 155 |
| 6 | The epitome of the earth : the garden of Cyrus and verdancy | 175 |
| 7 | The fruits of natural knowledge : the fugitive writings, and a conclusion | 211 |