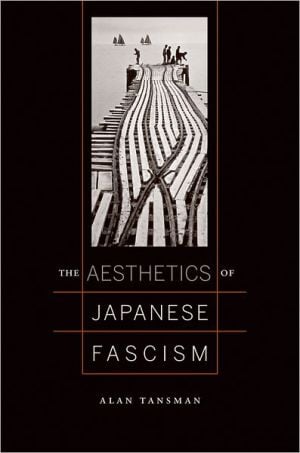 Overview:

In this wide-ranging study of Japanese cultural expression, Alan Tansman reveals how a particular, often seemingly innocent aesthetic sensibility—present in novels, essays, popular songs, film, and political writings—helped create an "aesthetic of fascism" in the years leading up to World War II. Evoking beautiful moments of violence, both real and imagined, these works did not lead to fascism in any instrumental sense. Yet, Tansman suggests, they expressed and inspired spiritual longings quenchable only through acts in the real world. Tansman traces this lineage of aesthetic fascism from its beginnings in the 1920s through its flowering in the 1930s to its afterlife in postwar Japan.
Synopsis:
"The range of Alan Tansman's coverage is truly prodigious and diverse—from the most obscurantist cultural analysis through mawkish sentimentality and orchestrated nostalgia for the medium past. His scholarship is impeccable: he knows the relevant secondary literature and has absorbed an impressively wide-ranging metacritical literature, which he has used with great originality and authority to untangle the knotted relationship between aesthetic modernism and fascism. He reads difficult texts brilliantly, with seeming and enviable effortlessness and his translations are a joy to read."—Harry Harootunian, University of Chicago
"Alan Tansman opens up a new apprehension of the fantastic possibilities of these works through his attention to the senses. He is as much attuned to the specifically rhythmic and tonal dimensions of writing as he is to its visual possibilities. And he has the capacity to evoke these varied sensorial domains in his own (re) writings, which, in their refusal to give up on beauty, critically recapitulate the very dilemma that his object texts stage: the dilemma of beauty within capitalist modernity and its complicity with an aesthetics of unification that often presages violence."—Marilyn Ivy, Columbia University
Book Buying Options
Buy Digital Book
Only $51.76

Buy Audio Book
Only $103.52

Title:
The Aesthetics of Japanese Fascism

Author:

Alan Tansman


Publisher:

University of California Press


Date Published: August 2009
Edition:

1


Pages: 368
ISBN-13:

9780520245051


ISBN-10: 0520245059
Table of Contents:
Preface List of Abbreviations
Introduction: The Aesthetics of Japanese Fascism
1. Modernist Beginnings: Akutagawa Ryjnosuke and Kobayashi Hideo
2. The Beauty of Violence: Yasuda YojjrQ's "Japanese Bridges"
3. Objects of the Sublime in Literary Writing: Yasuda YojjrQ, Yanagi S_etsu, Kawabata Yasunari, and Shiga Naoya
4. The Rhetoric of Unspoken Fascism: The Essence of the National Polity
5. Sentimental Fascism on the Screen: Mother under the Eyelids
6. An Aesthetics of Devotion: Kobayashi Hideo's Cultural Criticism
7. Filaments of Fascism in Postwar Times
Coda: Reading Fascist Aesthetics Notes
Index