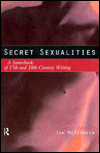 Overview:
Secret Sexualities is expansive in its historical range, vast sources and scholarly research. It contains rare, unpublished, primary material, extensive critical and contextual material by the editor, and refuses to discriminate between issues of sex, sexuality and gender.
The coverage includes:
• extracts dealing with anatomy and medicine
• the cultural construction of eunuchs and hermaphrodites
• famous trials for sodomy and the forgotten victims of the law
• representations of effeminate men, fops and sodomites
• Sapphic texts which portray cross-dressing, mannish women and female husbands
Synopsis:
A groundbreaking, comprehensive study of lesbian and gay culture from 1620-1785, Secret Sexualities collects for the first time a broad range of rare primary documents from the Renaissance. This collection identifies the origins and historical components of gay and lesbian identities. Representing lesbians and gay men in the period's own manners and terms, Secret Sexualities is critical reading for students of literature, gender, and cultural history.
Secret Sexualities contains rare and previously unpublished material, and takes a bold approach to issues of sex, sexuality, and gender in the Renaissance. Divided into four sections, author Ian McCormick examines: Anatomies (the construction of eunuchs and hermaphrodites; the relationship between the grotesque body, sex, and gender); Crimes and Punishments (sodomy trials; punishment; literary and imaginary perception of sodomy trials); Representations (gay men in the popular imagination; songs, poems, pamphlets, and sermons); Sapphic Texts (cross- dressing; female husbands; courtships and sexual practices; lesbian culture).
Secret Sexualities includes critical introductions for each section and extract, as well as a bibliography and glossary.
Book Buying Options
Buy Digital Book
Only $39.33

Buy Audio Book
Only $78.66

Title:
Secret Sexualities: A SourceBook of 17th and 18th Century Writing

Author:

Ian Mccormick


Publisher:

Taylor & Francis, Inc.


Date Published: January 1997
Pages: 272
ISBN-13:

9780415139540


ISBN-10: 0415139546
Table of Contents:
| | | |
| --- | --- | --- |
| | Acknowledgements | |
| | General Introduction | 1 |
| | Degrees and Symptoms of the Venereal Disease | 15 |
| | A Treatise of Hermaphrodites | 18 |
| | Eunuchism Displayed | 21 |
| | The Nature of Hermaphrodites | 34 |
| | The Fall and Great Vices of Sir Francis Bacon | 52 |
| | Mervin, Lord Audley, Earl of Castlehaven | 53 |
| | The Case of John Atherton | 62 |
| | The Trial and Conviction of Several Reputed Sodomites | 64 |
| | A Notorious Gang of Sodomites | 66 |
| | The Trial of Lord Duffus for Sodomy | 67 |
| | Thomas Rodin, Alias Reading, for Attempting Sodomy | 69 |
| | Trial of William Brown | 71 |
| | The Trial of Mother Clap for Keeping a Sodomitical House | 72 |
| | The Trial of Gabriel Lawrence for Sodomy | 73 |
| | The Trial of William Griffin for Sodomy | 75 |
| | The Trial of George Kedger for Sodomy | 77 |
| | The Trial of Thomas Wright for Sodomy | 78 |
| | The Trial of George Whittle for Sodomy | 80 |
| | Proposals for Castrating Criminals | 83 |
| | A Dissertation upon Flogging | 84 |
| | Mr Swinton Accused of Sodomitical Practices | 85 |
| | The Wadhamites: A Burlesque Poem | 100 |
| | A Court Martial | 104 |
| | The King versus Wiseman | 104 |
| | A Full and Genuine Narrative of the Confederacy | 106 |
| | The Trial of Richard Branson | 109 |
| | Short Extracts | 114 |
| | Sins of Sodom | 121 |
| | Mundus Foppensis | 124 |
| | The Levellers | 126 |
| | The Women-Hater's Lamentation | 130 |
| | The Mollies' Club | 131 |
| | Sir Narcissus Foplin | 134 |
| | Reasons for the Growth of Sodomy | 135 |
| | A Learned Dissertation upon Old Women, Male and Female | 143 |
| | A Genuine Narrative | 147 |
| | Hell upon Earth | 147 |
| | Lord Hervey | 150 |
| | A View of the Town | 151 |
| | The State of Rome under Nero and Domitian: A Satire | 152 |
| | The Pretty Gentleman | 153 |
| | Two Young Gentlemen | 158 |
| | The Destruction of Sodom Improved | 161 |
| | Love in the Suds | 162 |
| | The Latin Epitaph on Bob Jones | 168 |
| | The Times | 169 |
| | The Fruit Shop | 172 |
| | The Man-Woman | 177 |
| | The Womanish Man | 179 |
| | A Dialogue between Cleonarium and Leaena | 181 |
| | A Serious Proposal to the Ladies | 182 |
| | Sappho | 183 |
| | Blest as the Immortal Gods Is He | 184 |
| | The Fable of Iphis and Ianthe | 184 |
| | Venus in the Cloister; or, the Nun in her Smock | 187 |
| | Roxana | 198 |
| | Monsieur Thing's Origin | 198 |
| | The Unaccountable Wife | 202 |
| | Letter from a Young Lady | 204 |
| | The Toast | 207 |
| | Travels in Turkey | 209 |
| | The Progress of Nature | 210 |
| | A Spy on Mother Midnight | 212 |
| | The History of the Human Heart | 215 |
| | Memoirs of a Woman of Pleasure | 216 |
| | Tonzenie | 220 |
| | Catherine Vizzani | 222 |
| | A Discovery of a Very Extraordinary Nature | 234 |
| | The Adulteress | 235 |
| | Glossary | 237 |
| | Notes | 241 |
| | Bibliography | 249 |
| | Index | 255 |