| | |
| --- | --- |
| | |
Revelations of Divine Love written by Julian of Norwich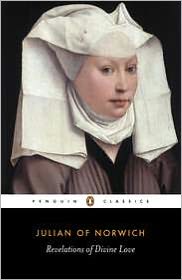 Book Buying Options
Buy Digital Book
Only $12.80

Title:
Revelations of Divine Love
Category:
Religion
>>
Mysticism
Category:
Prayer-books & Devotional Literature
>>
Christianity
Category:
Prayer-books & Devotional Literature

Author:

Julian of Norwich


Publisher:

Penguin Group (USA)


Date Published: February 1999
Pages: 240
ISBN-13:

9780140446739


ISBN-10: 0140446737
Overview:
Coming from a society where women were barred from serious writing and teaching, Julian, an anchorite in the great medieval city of Norwich, nevertheless used the English vernacular of the day to describe an extraordinary series of 'showings' which she received from God. Through her experiences, she identifies the female nature of Christ's suffering and the motherhood of God, and, using images from domestic daily life, emphasizes the homeliness of God's love. In the famous parable of the Lord and the Servant, she reveals her penetrating insight into the mystery of salvation; and she moves towards the controversial belief that God's love will not allow any of humankind to be lost. This new translation, which includes both the long and short versions of her Revelations, preserves all the directness of expression and the rich complexity of her thought; offering a work which stands alongside The Cloud of Unknowing and Langland's Piers Plowman.
Synopsis:
One of medieval mysticism's most original works, this book was written by a 14th-century anchoress whose fervent prayers triggered intense visions that continue to influence modern Christian thought.
Table of Contents:
Introduction Further Reading Translator's Note

Revelations of Divine Love

Short Text Long Text Notes Appendix I: List of Showings Appendix II: Original Texts of the Revelations
Appendix III: Margery Kempe's Meeting with Julian