| | |
| --- | --- |
| | |
Racial, Ethnic, and Homophobic Violence written by Prum, Michel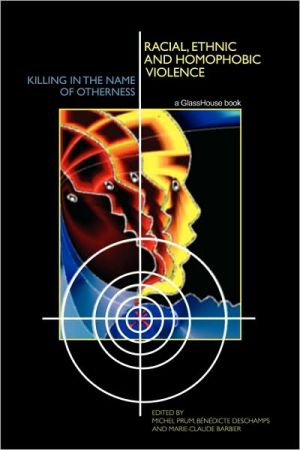 Book Buying Options
Buy Digital Book
Only $49.95

Title:
Racial, Ethnic, and Homophobic Violence
Category:
Law
Category:
Ethnic & Race Relations
Category:
Criminology

Author:

Prum, Michel


Publisher:

Taylor & Francis


Date Published: 2009
Edition:

1


Pages: 178
ISBN-13:

9780415574358


ISBN-10: 0415574358
Overview:
With contributions by internationally recognized specialists, this book, a perfect complement to courses in criminology and hate crime, provides a key resource for understanding how racism and homophobia work to produce violence.

Hate-motivated violence is now deemed a 'serious national problem' in most Western societies. With contributions by British, Australian, American, Canadian, Irish, Italian and French researchers, this book addresses a wide spectrum of types of violence, including, genocide, urban riots, inter-ethnic fighting and forms of hate crime targeting gay and lesbian people. Contributors to this volume also consider the political groups responsible for outbursts of hatred, their modes of operation and the institutional aspects of hate crime.

Opening up an interdisciplinary perspective on the ways in which certain groups or individuals are transformed into expiatory victims, this compelling book is an essential read for all postgraduate law students and researchers interested in hate crime and society.
Table of Contents:
Acknowledgements vii
Notes on contributors ix
Introduction Benedicte Deschamps Michel Prum 1
The effects of colonial policy: Genocide, racism and Aboriginal people in Australia Christopher Cunneen 17
Taking history to court: Defamation and revisionism after the David Irving trial Lawrence McNamara 31
From heroic death to comic death: Representations of African Americans in Harper's Weekly from the Civil War to the early twentieth century Claire Parfait 43
Italian Americans and the racialisation of ethnic violence in the United States Stefano Luconi 57
The role of violence in the far right in Canada Stanley Barrett 73
A 'bolt-on extra to the police's work?': Racism and policing in the UK since the Macpherson Report Neil Davie 83
Roma Sacer: Constructing the 'Gypsy other' in British political and legal discourse David Fraser 95
Anti-Traveller racism in Ireland: Violence and incitement to hatred Bryan Fanning 107
Hate speech made easy: The virtual demonisation of gays Marguerite J. Moritz 123
Challenging the offence and reclaiming the offensive: The gay and lesbian movement in the United States and online homophobic speech Guillaume Marche 133
The impact of interdependence on racial hostility: The American experience Jack Levin Gordana Rabrenovic 149
Index 161