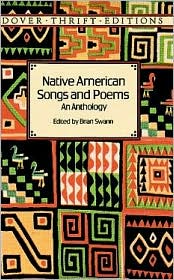 Title:
Native American Songs and Poems: An Anthology

Author:

Brian Swann


Publisher:

Dover Publications


Date Published: September 1996
Edition:

Special Value


Pages: 64
ISBN-13:

9780486294506


ISBN-10: 0486294501
Book Buying Options
Buy Digital Book
Only $2.99

Overview:
Wonderful collection of authentic traditional songs and contemporary Indian verse composed by Seminole, Hopi, Navajo, Pima, Arapaho, Paiute, Nootka, other Indian writers and poets. Topics include nature's beauty and rhythms, themes of tradition and continuity, the Indian in contemporary society, much more.

Synopsis:
Rich selection of traditional songs and contemporary verse by Seminole, Hopi, Arapaho, Nootka, other Indian writers and poets. Nature, tradition, Indians' role in contemporary society, other topics.