| | |
| --- | --- |
| | |
National Fabric: Fashion, Britishness, Globalization written by Alison Goodrum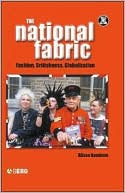 Book Buying Options
Buy Digital Book
Only $36.95

Buy Audio Book
Only $73.90

Title:
National Fabric: Fashion, Britishness, Globalization
Category:
Art
Category:
Fashion

Author:

Alison Goodrum


Publisher:

Berg Publishers


Date Published: December 2005
ISBN-13:

9781845201876


ISBN-10: 1845201876
Synopsis:
British fashion is characterized by oppositions: punk versus pageantry, anarchy versus monarchy, Cool Britannia versus Rule Britannia. Why has British fashion come to be so contradictory? How are these contradictions employed to "sell British"? What do they mean for consumers who "buy British"? Through an examination of iconic fashion companies Paul Smith and Mulberry, The National Fabric provides telling insights into the culture of contemporary fashion and the dilemmas of "going global". Goodrum argues that 'Britishness' is characterized less through a particular look than through its ambiguities. She shows how the apparently straightforward and economically--driven process of globalizing British fashion is, in fact, far more culturally nuanced and locally embedded than has previously been suggested.
Table of Contents:
| | | |
| --- | --- | --- |
| 1 | All change aboard the fashion express! | 1 |
| 2 | Beyond the big hair : geographies of consumption, globalization and fashion | 23 |
| 3 | A state of disunion : Britishness and British fashion | 59 |
| 4 | Rising sun, setting trends : exporting British fashion | 93 |
| 5 | Chic versus geek : locating nation, locating taste | 129 |
| 6 | Who wears the trousers? : fashion, nation, gender | 169 |