| | |
| --- | --- |
| | |
Mathematics of Finance: Modeling and Hedging written by Victor Goodman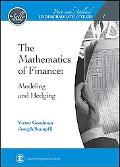 Book Buying Options
Buy Digital Book
Only $62.00

Title:
Mathematics of Finance: Modeling and Hedging
Category:
Mathematics
Category:
Advanced

Author:

Victor Goodman


Publisher:

American Mathematical Society


Date Published: March 2009
Edition:

New Edition


ISBN-13:

9780821847930


ISBN-10: 0821847937
Synopsis:
The Mathematics of Finance: Modeling and Hedging explains the process of computing derivative prices in terms of underlying equity prices, while at the same time provides readers with the mathematical tools and techniques to carry out that process. The authors help readers understand the process, develop insights into how derivatives are used, and comprehend the risk associated with creating or trading these assets. These insights into derivative trading provide extra knowledge of how modern equity markets work.
Booknews
Explains basic financial and mathematical concepts used in modeling and hedging. Each topic is introduced with the assumption that the reader has little to no previous exposure to financial matters or to the activities that are common to major equity markets. Contains chapters on financial markets, binomial trees, tree models for stocks and options, using spreadsheets to compute stock and option trees, and continuous models and the Black-Scholes formula. Other chapter topics are hedging, bond models and interest rate options, computational methods for bonds, currency markets and foreign exchange risks, and international political risk analysis. Includes exercises and selected answers. The authors are affiliated with Indiana University. Annotation c. Book News, Inc., Portland, OR (booknews.com)
Table of Contents:
| | | |
| --- | --- | --- |
| 1 | Financial Markets | 1 |
| 2 | Binomial Trees, Replicating Portfolios and Arbitrage | 25 |
| 3 | The Models for Stocks and Options | 44 |
| 4 | Using Spreadsheets to Compute Stock and Option Trees | 71 |
| 5 | Continuous Models and the Black-Scholes Formula | 81 |
| 6 | The Analytic Approach to Black-Scholes | 109 |
| 7 | Hedging | 122 |
| 8 | Bond Models and Interest Rate Options | 137 |
| 9 | Computational Methods for Bonds | 190 |
| 10 | Currency Markets and Foreign Exchange Risks | 207 |
| 11 | International Political Risk Analysis | 221 |
| | Answers to Selected Exercises | 241 |
| | Index | 247 |