| | |
| --- | --- |
| | |
Irish and Postcolonial Writing: History, Theory, Practice written by Glenn Hooper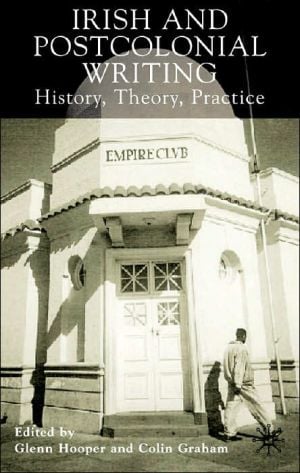 Book Buying Options
Buy Digital Book
Only $124.05

Buy Audio Book
Only $248.1

Title:
Irish and Postcolonial Writing: History, Theory, Practice
Category:
Literature
>>
English
>>
General & Miscellaneous
>>
Literary Criticism
>>
Literary Criticism
Category:
Politics & Literature
Category:
Society & Culture in Literature

Author:

Glenn Hooper


Publisher:

Palgrave Macmillan


Date Published: October 2002
Pages: 280
ISBN-13:

9780333929667


ISBN-10: 0333929667
Overview:
Although controversy has surrounded Postcolonial discourse, its impact on Irish studies has been uneven, with many writers and readers either embracing or rejecting it outright. This collection demonstrates the usefulness of a postcolonial mode of analysis by considering a number of comparative texts and moments. These essays, which appraise Ireland in relations to the Caribbean, the Orient, South Africa, and Zimbabwe, present an accessible and innovative survey of the field.
Synopsis:
Insisting that the postcolonial models of analysis used in studies of British-governed territories in Africa and Asia are applicable to examinations of Ireland (if not directly isomorphic), Hooper (Irish and Scottish studies, U. of Aberdeen) and Graham (Irish writing, Queen's U., Northern Ireland) present 12 essays that compare the literature and history of Ireland with those of other postcolonial cultures, examine the impact of Irish history on it's literature, and explore the rhetorical strategies of Irish historiography and literature in constructing competing discourses of Irish identity. Annotation c. Book News, Inc.,Portland, OR
Table of Contents:
| | | |
| --- | --- | --- |
| | Notes on the Contributors | vii |
| Part I | Theories | 1 |
| 1 | Introduction | 3 |
| 2 | A Diseased Propensity: Fetish and Liminality in the Irish 'Colonial' Text | 32 |
| 3 | Frantz Fanon, Roger Casement and Colonial Commitment | 49 |
| 4 | Demythologizing Ireland: Revisionism and the Irish Colonial Experience | 66 |
| Part II | Comparisons | 87 |
| 5 | Settler Instability: Edgeworth's Irish Novels and Settler Writing from Zimbabwe | 89 |
| 6 | Translations: Difference and Identity in Recent Poetry from Ireland and the West Indies | 109 |
| 7 | 'Monstrous Fruit': Excremental Vision in Postcolonial Irish and African Fiction | 127 |
| 8 | Orientalism and Celticism | 142 |
| 9 | Talking about Revolution: Lady Anne Barnard in France, Ireland, and the Cape Colony | 157 |
| Part III | Readings | 179 |
| 10 | 'What ish my Culture? Who talks of my Culture?': Interrogating Irishness in the Works of James Joyce | 181 |
| 11 | Eavan Boland: Forging a Postcolonial Herstory | 202 |
| 12 | Troublesome Tales: J.G. Farrell and the Decline of Empire | 222 |
| | Select Bibliography | 250 |
| | Index | 262 |