| | |
| --- | --- |
| | |
Into the Darkness written by Barbara Michaels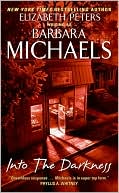 Book Buying Options
Buy Digital Book
Only $99.99

Buy Audio Book
Only $199.98

Title:
Into the Darkness
Category:
Fiction
Category:
Literary

Author:

Barbara Michaels


Publisher:

HarperCollins Publishers


Date Published: June 2008
Edition:

Reprint


ISBN-13:

9780061249648


ISBN-10: 0061249645
Synopsis:
Meg Venturi never expected the windfall she inherits when her grandfather dies. For some unknown reason the eccentric old millionaire has left her his profitable antique jewelry business. But there is a catch. Meg must share the business with an aloof, mysterious, and somewhat sinister young man called A. L. Riley. The town is whispering about her enigmatic new partner. Rumors spread about unspoken secrets, a dark and disturbing legacy ...and murder. Soon a series of troubling events has Meg looking uncomfortably over her shoulder. The longer she stays in this tiny New England village the clearer two very troubling truths become: that all that glitters is definitely not gold ...and that someone will stop at nothing to drive her away.
Publishers Weekly
Meg Venturi is the quintessential Barbara Michaels ( Smoke and Mirrors ) heroine, with a fierce independence and caustic wit barely hiding her romantic soul. Meg's intelligence and grit are put to the test when she returns to her New England home after inheriting half of her grandfather's prestigious jewelry business and finds she must share the operation with a new co-owner, a sinister and enigmatic man called A. L. Riley. But a series of threatening events convinces Meg that somebody wants her out of town. The well-meaning but relentlessly nosy townspeople appear to know more than they're letting on, and a fine collection of garrulous businessmen, surly former classmates and exotic relatives keep Meg on her toes--and constantly looking over her shoulder. An underlying past tragedy involving Meg's father is connected somehow to her present traumas, and Meg must summon all her formidable skills not only to survive, but to get to the root of her deepening problems. Memorable characters and complex mystery make this one of the Michaels's best novels of romantic suspense. Doubleday Book Club alternate. (June)