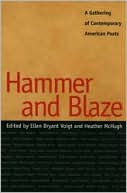 Synopsis:
Hammer and Blaze provides a true cross-section of the best contemporary poets writing in North America today. Editors Ellen Bryant Voigt and Heather McHugh have brought together the work of sixty poets who have taught at the Warren Wilson MFA Program for Writers, one of the most respected and influential writing programs of its kind.
The stellar group of contributors includes MacArthur fellows Campbell McGrath, Anne Carson, Edward Hirsch, Eleanor Wilner, Susan Stewart, and Lucia Perillo. Also represented here are works by Pulitzer Prize winners Stephen Dunn and Louise Glück; Ruth Lilly Prize winner Carl Dennis; and Robert Wrigley, Thomas Lux, and B. H. Fairchild, winners of the Kingsley Tufts Award. From the couplets of Pablo Medina to the neoclassical lyricisms of Carl Phillips, this anthology appropriately reflects the cross-cultural nature of contemporary North American poetry with its most diverse and prestigious voices. A number of the poems are previously unpublished, including work by Joan Aleshire, Stuart Dischell, Stephen Dobyns, Stephen Dunn, Roland Flint, Carol Frost, Barbara Greenberg, Edward Hirsch, Pablo Medina, Steve Orlen, Gregory Orr, Kathleen Peirce, Kenneth Rosen, Daniel Tobin, Alan Williamson, and Eleanor Wilner.
Hammer and Blaze, a gathering of our best poets, should garner attention from the literary world at large as well as from students of contemporary poetry and creative writing.
Publishers Weekly
Edward Hirsch, Thomas Lux, Louise Gl ck and Stephen Dobyns are some of the bards showcased in Hammer and Blaze: A Gathering of Contemporary American Poets. The volume gathers work by poets who have taught at the Warren Wilson MFA Program, including editors Ellen Bryant Voigt (Kyrie) and Heather McHugh (The Father of the Predicaments). A range of styles is reflected, from Carl Phillips's neoclassical lyrics to Campbell McGrath's "Because This Is Florida": "Because this is Florida, we can be what we choose to be,/ say, Dixie-fried Cubano rednecks. It's that kind of place./ When the heavy metal band plays `Rocky Top, Tennessee'...." (Aug.) Copyright 2002 Cahners Business Information.
Book Buying Options
Buy Digital Book
Only $24.95

Title:
Hammer and Blaze: A Gathering of Contemporary American Poets

Author:

Ellen Bryant Voigt


Publisher:

University of Georgia Press


Date Published: August 2002
ISBN-13:

9780820324166


ISBN-10: 0820324167
Table of Contents:
| | | |
| --- | --- | --- |
| | Preface | |
| | In a Trunk Not Looked into for Twenty Years | 1 |
| | South Woods in October, with the Spiders of Memory | 3 |
| | Cycladic Figure | 4 |
| | Renovated Zoo, Now Called Habitat | 5 |
| | To Charlotte Bronte | 7 |
| | Slipping | 8 |
| | Persephone | 9 |
| | Full Flower Moon | 10 |
| | Up To | 11 |
| | Wide-Eyed Look | 12 |
| | "Some Vision of the World Cashmere" | 13 |
| | The Last Saffron | 14 |
| | Ghazal | 16 |
| | After the Auction of My Grandmother's Farm | 18 |
| | Chequamegon | 19 |
| | Chronic Town | 20 |
| | Imaginary | 21 |
| | Carpathian Frontier | 22 |
| | River | 23 |
| | Praying with George Herbert in Late Winter | 24 |
| | Reading Frank O'Hara in the Hospital | 26 |
| | Evening Song | 27 |
| | Benton's Clouds | 28 |
| | Ohio Fields after Rain | 30 |
| | Treatise on Touch | 31 |
| | Bad Cello | 34 |
| | I Imagine the Mortician | 35 |
| | Bones Not of This Puny World | 36 |
| | Lament | 39 |
| | Dreampoem 3 | 41 |
| | Dreampoem 4 | 42 |
| | Dreampoem 6 | 42 |
| | Dreampoem 7 | 43 |
| | Dreampoem 8 | 44 |
| | Dreampoem 10 | 45 |
| | My Religion | 47 |
| | Flexion of God | 48 |
| | God's Name | 50 |
| | The Wolf God | 51 |
| | God's Ardor | 52 |
| | Argos | 53 |
| | Brave Sparrow | 54 |
| | My Crucifixion | 56 |
| | The Barber | 57 |
| | Bardo | 58 |
| | The Other | 59 |
| | Final Season | 59 |
| | Nocturne with Witch, Oven and Two Little Figures | 61 |
| | My Crow, Your Crow | 63 |
| | For Lear | 63 |
| | The God Who Loves You | 65 |
| | A Priest of Hermes | 66 |
| | Not the Idle | 67 |
| | Gelati | 68 |
| | The Moth | 70 |
| | Crooked Wood | 72 |
| | How to Like It | 75 |
| | His Favorite Blue Cup | 76 |
| | How It Was at the End | 77 |
| | (His life was the practice) | 78 |
| | No Moment Past This One | 78 |
| | A Postmortem Guide | 80 |
| | Burying the Cat | 81 |
| | Oklahoma City | 83 |
| | Poe in Margate | 84 |
| | Chekhov in Port Republic | 85 |
| | The Dig | 86 |
| | The Burial | 87 |
| | Inside gertrude stein | 88 |
| | The White Dress | 89 |
| | All the People in Hopper's Paintings | 91 |
| | The Machinist, Teaching His Daughter to Play the Piano | 93 |
| | Old Men Playing Basketball | 94 |
| | The Great Gizzardo | 96 |
| | Lord of the Jungle, Larva-Nude | 97 |
| | Herkimer, Mohawk, et al., in Autumn | 97 |
| | Australia | 98 |
| | What We Wait For | 99 |
| | Faces Underwater | 99 |
| | Bang! | 101 |
| | Wake | 102 |
| | Spring | 103 |
| | Barukh ata adonay | 104 |
| | Nothing Doing | 105 |
| | The Fidgeting | 106 |
| | Gouge, Adze, Rasp, Hammer | 107 |
| | The Actual Moon, The Actual Stars | 108 |
| | The St. Louis Zoo | 111 |
| | Komodo | 112 |
| | Compatibility | 114 |
| | Scorn | 115 |
| | Requin | 115 |
| | Blue Annunciation | 117 |
| | Ghazal | 118 |
| | I Not I | 119 |
| | Down There, If You Look | 120 |
| | Envoi | 121 |
| | Mock Orange | 122 |
| | Celestial Music | 123 |
| | The Wild Iris | 124 |
| | Ithaca | 125 |
| | Nest | 125 |
| | The Education | 129 |
| | I Was Looking | 130 |
| | What They Are | 131 |
| | The Visitation | 132 |
| | The Knife Accuses the Wound | 134 |
| | Grammatical Mood | 135 |
| | Cord | 138 |
| | Submersible | 141 |
| | I Am | 142 |
| | Sackcloth | 142 |
| | God's World, 1927 | 143 |
| | Rotgut | 144 |
| | Scrolls | 145 |
| | The Desire Manuscripts | 146 |
| | America | 151 |
| | Carnal Knowledge | 152 |
| | Lucky | 153 |
| | Lawrence | 155 |
| | Jet | 156 |
| | Prayer | 158 |
| | A Certain Light | 158 |
| | Reading Ovid | 160 |
| | Practicing | 161 |
| | What the Living Do | 162 |
| | Do Not Leave Baby Unattended | 164 |
| | Joy | 165 |
| | Small Boys Petting Caterpillar | 167 |
| | The Satyr's Heart | 169 |
| | Blacklegs | 169 |
| | Sheep Child | 171 |
| | The South Gate | 172 |
| | Elegy | 173 |
| | Sheet Music | 174 |
| | Linear | 176 |
| | Impetus | 179 |
| | Balm | 179 |
| | 2. Caravaggio: Swirl & Vortex | 182 |
| | 7. Coda: Kind of Blue | 185 |
| | Portrait | 187 |
| | Beauty School | 187 |
| | Henry Clay's Mouth | 188 |
| | Tactile | 189 |
| | Pre-Cerebral | 190 |
| | Bonehead | 190 |
| | The Orange | 191 |
| | Because This Is Florida | 192 |
| | The Zebra Longwing | 193 |
| | Benediction for the Savior of Orlando | 194 |
| | Past All Understanding | 197 |
| | The Looker | 198 |
| | Etymological Dirge | 199 |
| | What He Thought | 200 |
| | Just Some | 202 |
| | Havana Dream | 203 |
| | Amor Vincit Omnia | 203 |
| | Venus in Varadero | 204 |
| | The Peasant Heart | 204 |
| | Before the Solutions | 205 |
| | End of the Affair | 205 |
| | Butterflies That Save Us from Ourselves | 206 |
| | Reverie: The Saturday Evening Post | 207 |
| | Nature Rarely Confides in Me | 209 |
| | Bolt from the Blue: A Sequence | 212 |
| | (Trauma) Storm | 214 |
| | Screaming Out Loud | 215 |
| | Almost a Loneliness | 216 |
| | How Smoothly | 216 |
| | Be-All | 217 |
| | Ovidian | 218 |
| | Confession 1.8.13 | 218 |
| | Confession 10.8.13 | 219 |
| | Confession 4.2.3 | 219 |
| | Two Sisters | 220 |
| | Confession 2.5.10 | 221 |
| | Inseminator Man | 222 |
| | Lost Innocence of the Potato Givers | 225 |
| | From the Devotions | 227 |
| | The Kill | 229 |
| | Trade | 231 |
| | Section 1 from Plot | 233 |
| | Cerberus | 239 |
| | The Sofia Buslot | 240 |
| | Bulgarian Girl | 241 |
| | Striking a Match | 241 |
| | Redbird, Soon in the Morning | 242 |
| | The Wine-Dark Sea | 243 |
| | Reminder | 244 |
| | A Good Father | 244 |
| | A Two-Year-Old Girl in a Restaurant | 245 |
| | Birthday | 246 |
| | Every Sunday | 246 |
| | Wings of the Morning | 247 |
| | The Present Perfect | 248 |
| | American Solitude | 250 |
| | Last Requests | 252 |
| | Poem Ending with a Phrase from the Psalms | 253 |
| | Definition of the Soul | 254 |
| | After Surgery | 255 |
| | Mop String | 256 |
| | History | 257 |
| | Front Street | 257 |
| | The Burned Boy | 258 |
| | Augusto Jandolo: On Excavating an Etruscan Tomb | 260 |
| | Newsreel | 261 |
| | Prayer | 263 |
| | The Dreamhouse | 264 |
| | Red Dog | 266 |
| | Of Oystermen, Workboats | 267 |
| | Night Pleasures | 268 |
| | Making a Statement | 269 |
| | Descending | 269 |
| | At the Vet's | 271 |
| | Dead Moth in a Bottle of Mineral Water | 272 |
| | Tatyana | 272 |
| | Encounter on an Italian Beach | 273 |
| | Lost Life | 274 |
| | A Night in Assisi | 276 |
| | The Seasons | 278 |
| | Two Brief Views of Hell | 278 |
| | Let me tell you about my marvelous god | 280 |
| | The Sea of Time and Space | 281 |
| | Vessel: Mythos | 284 |
| | Myth of the Flood | 285 |
| | Hunger for Something | 286 |
| | Decade | 286 |
| | Erotic Energy | 287 |
| | To the Reader: Polaroids | 288 |
| | To the Reader: If You Asked Me | 288 |
| | To the Reader: Twilight | 289 |
| | The path between | 290 |
| | The Night Sea | 290 |
| | I have lived in your face | 290 |
| | One Foot in the Dark | 291 |
| | A linnet in the rain | 291 |
| | The Passing | 292 |
| | The Art of Distance, I | 293 |
| | The Art of Distance, II | 294 |
| | The Art of Distance, VI | 296 |
| | Largesse | 297 |
| | Linda Does My Horoscope | 299 |
| | Where the Hills Come Down Like a Lion's Paw on Summer | 302 |
| | Tidepools, Part 2 | 303 |
| | The Muse | 305 |
| | Field of Vision | 306 |
| | Epitaph | 307 |
| | Facing into It | 308 |
| | Of a Sun She Can Remember | 310 |
| | German Chronicle | 311 |
| | The Pumpkin Tree | 317 |
| | About Language | 318 |
| | Dark Forest | 319 |
| | The Longing of Eagles | 321 |
| | Sunflower | 323 |
| | The River Merchant, Stuck in Kalamazoo, Writes His Wife a Letter During Her Semester Abroad | 324 |
| | I Can Hardly Be Considered a Reliable Witness | 325 |
| | How I Get My Ideas | 326 |
| | Acknowledgments | 329 |
| | Contributors' Notes | 337 |