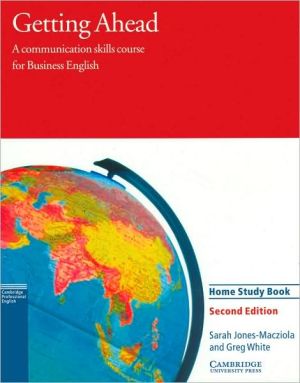 Title:
Getting Ahead: A Communication Skills Course for Business English

Author:

Sarah Jones-Macziola


Publisher:

Cambridge University Press


Date Published: January 2000
Edition:

Home Study Edition


Pages: 83
ISBN-13:

9780521654050


ISBN-10: 052165405X
Book Buying Options
Buy Digital Book
Only $26.81

Buy Audio Book
Only $53.62

Overview:
This course for students at the pre-intermediate level who want to improve their English for business and professional purposes includes 16 main units, 4 review units, a word list with phonetic transcription and tapescripts for listening activities. The main units are topically based and focus on such themes as describing a company, welcoming visitors and dealing with problems.
Synopsis:
A communication skills course for Business English. Leads into Further Ahead.
Table of Contents:
UNIT 1; INTRODUCTION AND GREETINGS;
1.1; Introducing yourself;
1.2; Saying where you're from;
1.3; Introducing other people; UNIT 2; OCCUPATIONS;
2.1; Saying what you do;
2.2; Telephoning;
2.3; Finding out information about people; UNIT 3; COMPANIES;
3.1; Describing a company;
3.2; Talking about types of business;
3.3; Finding the perfect partner; UNIT 4; THE PLACE OF WORK;
4.1; Giving directions;
4.2; Talking about departments;
4.3; Taking a message; UNIT 5; PROGRESS TEST 1; UNIT 6; DAY-TO-DAY WORK;
6.1; Talking about your work;
6.2; Describing routines;
6.3; Likes and dislikes; UNIT 7; THE WORKING ENVIRONMENT;
7.1; Asking people to do things;
7.2; Talking about stress;
7.3; Giving advice; UNIT 8; PLANS;
8.1; Discussing arrangements;
8.2; Making arrangements;
8.3; Planning a trip; UNIT 9; VISITS AND TRAVEL;
9.1; Talking to a visitor;
9.2; Attending business events 9.3; Finding out about hotels; UNIT 10; PROGRESS TEST 2; UNIT 11; WORK HISTORY;
11.1; Finding someone a job;
11.2; Talking about your career;
11.3; Describing your first job; UNIT 12; FAIRS AND SALES;
12.1; Finding out about a trade fair;
12.2; Talking about products;
12.3; Placing an order; UNIT 13; PRODUCT DESCRIPTION;
13.1; Comparing products;
13.2; Saying what's best;
13.3; Making suggestions; UNIT 14; ENTERTAINING;
14.1; Taking a guest to dinner;
14.2; Making invitations;
14.3; Describing food; UNIT 15; PROGRESS TEST 3; UNIT 16; FIRMS AND FACTORIES;
16.1; Saying what you've done;
16.2; Visiting a factory;
16.3; The company report; UNIT 17; PROBLEMS, PROBLEMS;
17.1;Dealing with problems;
17.2; Complaining and apologizing;
17.3; Finding a solution; UNIT 18; FUTURE TRENDS;
18.1; Making predictions;
18.2; Talking about the future;
18.3; Changing the way we work; UNIT 19; ENJOYING A BUSINESS TRIP;
19.1; Finding out about a city;
19.2; Making offers;
19.3; Thanking; UNIT 20; PROGRESS TEST 4; Key and transcripts