| | |
| --- | --- |
| | |
Essentials of Business Law - 4th Edition written by Beatty, Jeffrey F. , Samuelson, Susan S.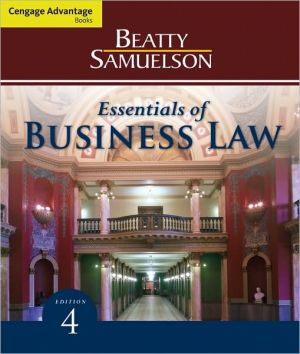 Book Buying Options
Buy Digital Book
Only $145.93

Buy Audio Book
Only $291.86

Title:
Essentials of Business Law - 4th Edition
Category:
Law

Author:

Beatty, Jeffrey F. , Samuelson, Susan S.


Publisher:

Cengage Learning


Date Published: 1/24/2011
Edition:

4


Pages: 1040
ISBN-13:

9780538473804


ISBN-10: 0538473800
Overview:
No other text conveys such a passion for this profoundly important discipline. Delivering the material in their signature engaging style, the authors pepper their writing with a focus on human conflict that illustrates business law from the lawyer's perspective. While more brief than the traditional business law text, ESSENTIALS OF BUSINESS LAW, 4TH Edition provides solid coverage of the core topics, especially contracts, and meets all AACSB curriculum standards.
Table of Contents:
PREFACE XVII. UNIT I: THE LEGAL ENVIRONMENT. 1. Introduction to Law. 2. Business Ethics and Social Responsibility. 3. Dispute Resolution. 4. Common Law, Statutory Law, and Administrative Law. 5. Constitutional Law 101. 6. Torts. 7. Crime. 8. International Law. UNIT II: CONTRACTS. 9. Introduction to Contracts. 10. Agreement. 11. Consideration. 12. Legality. 13. Capacity and Consent. 14. Written Contracts. 15. Third Parties. 16. Performance and Discharge. 17. Remedies. UNIT III: COMMERCIAL TRANSACTIONS. 18. Introduction to Sales. 19. Ownership and Risk. 20. Warranties and Product Liability. 21. Performance and Remedies. 22. Creating a Negotiable Instrument. 23. Liability for Negotiable Instruments. 24. Liability for Negotiable Instruments: Banks and Their Customers. 25. Secured Transactions. 26. Bankruptcy. UNIT IV: EMPLOYMENT, BUSINESS ORGANIZATIONS, AND PROPERTY. 27. Agency. 28. Employment Law. 29. Starting a Business. 30. Corporations. 31. Securities. 32. Property. 33. Cyberlaw. 34. Intellectual Property. Appendix A. The Constitution of the United States. Appendix B. Uniform Commercial Code (Excerpts). Glossary. Table of Cases . Index.