| | |
| --- | --- |
| | |
Equity and Trusts 2008-2009: Routledge-Cavendish Core Statutes Series written by Cracknell Dougl , Great Britain , Cracknell, Douglas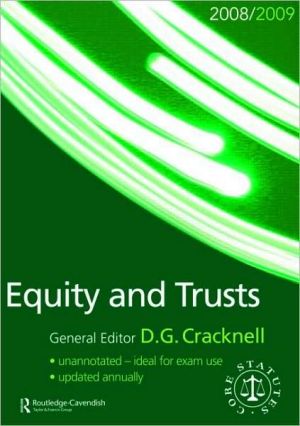 Book Buying Options
Buy Digital Book
Only $25.55

Title:
Equity and Trusts 2008-2009: Routledge-Cavendish Core Statutes Series
Category:
Geographical
>>
Europe
>>
Law

Author:

Cracknell Dougl , Great Britain , Cracknell, Douglas


Publisher:

Taylor & Francis, Inc.


Date Published: 2008
Edition:

2


Pages: 236
ISBN-13:

9780415458344


ISBN-10: 041545834X
Overview:
Routledge-Cavendish Core Statutes provide a comprehensive series of essential statutory provisions for the core subjects and major options on the LLB or GDL.

Each book in the series
Provides the precise wording of Acts of Parliament and is unnanotated, making it ideal for both course and exam use.
Is updated regularly to incorporate all of the latest legislation covered in most UK law syllabi
Features consolidated amendments, avoiding the need to cross-refer to amending legislation
Contains detailed contents listings and comprehensive index for ease of navigation and research
This edition of Equity and Trusts Statutes has been compiled and updated by D.G. Cracknell and is up-to-date as at 1st June 2008.