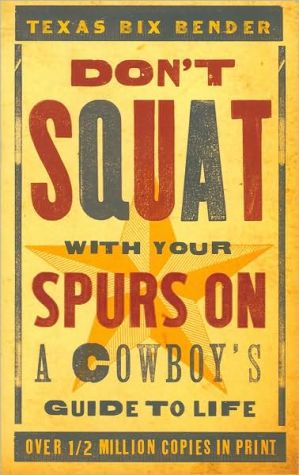 Title:
Don't Squat With Your Spurs On: A Cowboy's Guide to Life

Author:

Texas Bix Bender


Publisher:

Smith, Gibbs Publisher


Date Published: October 2009
Edition:

Revised


Pages: 128
ISBN-13:

9781423606994


ISBN-10: 142360699X
Book Buying Options
Buy Digital Book
Only $7.99

Buy Audio Book
Only $15.98

Overview:
"If you find yourself in a hole, the first thing to do is stop digging."
Synopsis:
Henry Ward Beecher said "the common sense of one century is the common sense of the next." That said, these pocket-sized humor books pack quite a bit of punch-lines that is. With more than 1.5 million copies in print, their all-new look will leave a whole new generation in stitches!
Excerpt:
AFTER EATING AN ENTIRE BULL, a mountain lion felt so good he started roaring. He kept it up until a hunter came along and shot him. The moral: WHEN YOU'RE FULL OF BULL, KEEP YOUR MOUTH SHUT.