| | |
| --- | --- |
| | |
Discovering Exile: Yiddish and Jewish American Culture During the Holocaust written by Anita Norich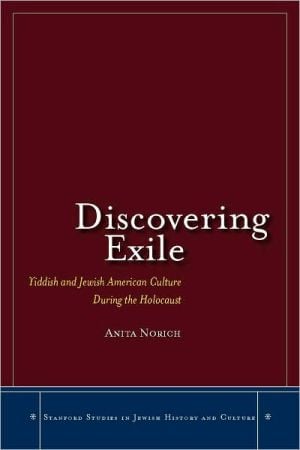 Book Buying Options
Buy Digital Book
Only $46.00

Title:
Discovering Exile: Yiddish and Jewish American Culture During the Holocaust
Category:
Religion
>>
Jewish
>>
Life
Category:
Yiddish Literature
>>
Literary Criticism
Category:
Jewish History
>>
United States

Author:

Anita Norich


Publisher:

Stanford University Press


Date Published: November 2007
Edition:

Reprint


Pages: 232
ISBN-13:

9780804756907


ISBN-10: 0804756902
Overview:
Discovering Exile analyzes American Yiddish culture and its development during the European Holocaust and shows how our understanding of American Jewish culture has been utterly distorted by the omission of this context. It explores responses to some of the most intense cultural controversies of the period, examining texts in various genres written by the most important Yiddish writers and critics and placing them at the center of discussions of literary modernism and cultural modernity. Anglo-Jewish writers of the period provide a counterpoint to and commentary on this Yiddish story. Norich seeks to demythologize Yiddish as mame-loshn (mother tongue)—as merely the language of the home and the past—by returning to a time of great, if ironic, vibrancy, when Yiddish writers confronted the very nature of their existence in unprecedented ways. Under increasing pressure of news from the war front and silence from home, these writers re-imagined modernism, the Enlightenment, political engagement, literary conventions, and symbolic language.
Synopsis:
This book considers some of the most famous Yiddish writers in America, the controversies their works aroused—in Yiddish and English—during the Holocaust, and the ways in which reading them contributes to a revision of American Jewish cultural development.
Table of Contents:
Acknowledgments xi
Introduction 1
Cultural Questions, Jewish Answers 17
"Good Night, World": Yankev Glatshteyn's Ambivalent Farewell 42
Sholem Asch and the Christian Question 74
From the Politics of Culture to the Culture of Mourning 96
Epilogue 121
Selected News Review in Contemporary Jewish Record 127
Once There Was a King (On the thirtieth anniversary of I. L. Peretz's death) Rachel Auerbach Anita Norich 131
Notes 141
Bibliography 159
Index 209