| | |
| --- | --- |
| | |
Death Blossoms: Reflections from a Prisoner of Conscience written by Mumia Abu-Jamal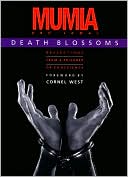 Book Buying Options
Buy Digital Book
Only $12.00

Title:
Death Blossoms: Reflections from a Prisoner of Conscience
Category:
Biographies
>>
Autobiographies
Category:
General

Author:

Mumia Abu-Jamal


Publisher:

South End Press


Date Published: July 2003
ISBN-13:

9780896086999


ISBN-10: 0896086992
Synopsis:
Mumia's Abu-Jamal's poetic observations and reflections examine the deeper dimensions of existence, resulting in a powerful testament to the human spirit.
Library Journal
It is impossible to escape the irony that a man so impassioned about life has spent the last 15 years on death row. A journalist (Live from Death Row, LJ 5/1/95) and self-described "professional revolutionary" accused of killing a Philadelphia police officer, Abu-Jamal has won international attention for his case. Prison walls, however, have done little to deter his activism. His latest book has a markedly spiritual undertone, as he discusses his views on religion and fellow inmates' thoughts on the subject. In this compilation of over 35 short commentaries and poems, the author questions the validity of Christianity and traces his struggles with religion. In one touching essay, he compares children to acorns, saying that they possess the power to grow into mighty oak trees. Abu-Jamal's words flow like the very sap of those trees, pulsing with energy and capturing the essence of life. Recommended for both public and academic libraries.Erin Cassin, "Library Journal"