| | |
| --- | --- |
| | |
Contemporary Scottish Studies written by Hugh MacDiarmid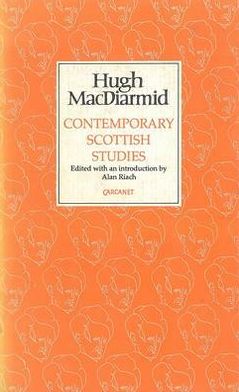 Book Buying Options
Buy Digital Book
Only $32.32

Buy Audio Book
Only $64.64

Title:
Contemporary Scottish Studies
Category:
Literature
>>
English
>>
General & Miscellaneous
>>
Literary Criticism
>>
Literary Criticism
Category:
20th Century
>>
Scottish History
Category:
English Fiction & Prose Literature
>>
20th Century
>>

Author:

Hugh MacDiarmid


Publisher:

Carcanet Press, Limited


Date Published: January 1995
Pages: 496
ISBN-13:

9781857541304


ISBN-10: 1857541308
Overview:
These essays, first published between 1925 and 1927, propose a radical overhaul and a new construction of Scotland's cultural identity. MacDiarmid focuses on poetry and the novel, on theatre, art, music, history and education, and also on writing by women in Scotland. His criticism of conventional attitudes is balanced by an appraisal of the possibilities in Scotland for a renaissance in the arts and a reassertion of national cultural and political identity. MacDiarmid seeks to integrate cultural and social well being. How successful has his challenge been met? The essays are published with the correspondence to which they gave rise, and which form a running commentary. The author's 1976 comments appear in the book as an appendix.