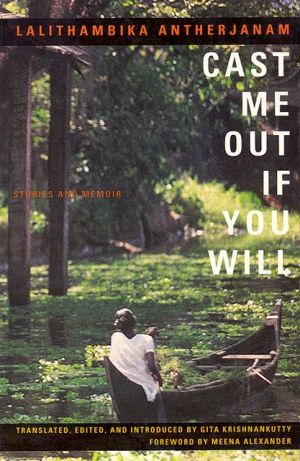 Title:
Cast Me Out If You Will: Stories and Memoir

Author:

Lalithambika Antherjanam


Publisher:

Feminist Press at CUNY, The


Date Published: April 1998
Pages: 204
ISBN-13:

9781558611887


ISBN-10: 1558611886
Book Buying Options
Buy Digital Book
Only $8.47

Buy Audio Book
Only $16.94

Overview:
Available here for the first time in English, this unique collection emerges from Indian author Lalithambika Antherjanam's own experience as a member of the "namboodiri" caste. Born in 1909 in Kerala, India, Antherjanam defied her privileged upbringing and turned to write of the oppression faced by namboodiri women. Her touching stories reflect the lives of women living at all levels of Indian society.
Synopsis:
Available for the first time in English translation in the U.S., an engaging, vital collection.
Table of Contents:
| | | |
| --- | --- | --- |
| | Foreword | |
| | Introduction | |
| 1 | The Power of Fate | 3 |
| 2 | In the Moonlight | 12 |
| 3 | The Goddess of Revenge | 18 |
| 4 | Admission of Guilt | 31 |
| 5 | Within the Folds of Seclusion | 44 |
| 6 | Wooden Cradles | 56 |
| 7 | The Devi and Her Devotee | 62 |
| 8 | Life and Death | 71 |
| 9 | A Leaf in the Whirlwind | 79 |
| 10 | "Come Back" | 89 |
| 11 | Daughter of Humanity | 98 |
| 12 | The Boon | 106 |
| 13 | Fulfillment | 115 |
| 14 | Dhirendu Majumdar's Mother | 122 |
| 15 | Childhood Memories | 133 |
| 16 | A Writer Is Born | 144 |
| 17 | A Woman Writer's Reply | 151 |
| 18 | Lessons from Experience | 157 |
| 19 | An Account of a Performance | 165 |
| 20 | Sesame Seeds, Flowers, Water | 172 |
| | Glossary | 184 |
| | Bibliography | 187 |