| | |
| --- | --- |
| | |
Bandana Republic: A Literary Anthology by Gang Members and Their Affliliates written by Louis Reyes Rivera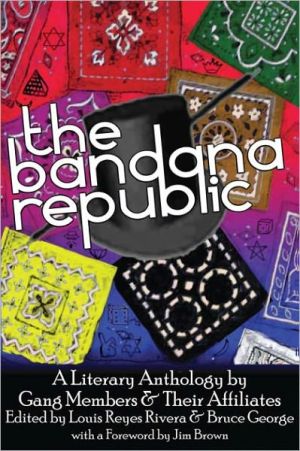 Book Buying Options
Buy Digital Book
Only $16.95

Title:
Bandana Republic: A Literary Anthology by Gang Members and Their Affliliates
Category:
Settings & Atmosphere
>>
Fiction
Category:
American Literature Anthologies

Author:

Louis Reyes Rivera


Publisher:

Soft Skull Press, Inc.


Date Published: May 2008
Pages: 288
ISBN-13:

9781593761943


ISBN-10: 1593761945
Overview:
Urban youth gangs are typically viewed as no more than training grounds for thugs and felons. This breakthrough anthology presents a far different picture, revealing present and former gang members' and street activists' artistic impulses, emotional sensitivities, political beliefs, and capacities to assess the social conditions that created them. The Bandana Republic contains powerful writing: fiction and essays, poetry, and polemics written by adolescents from gangs like the Crips and Bloods and the Mexican Mafia. There's also creative work by ex-gangbangers who have become activists, artists, musicians, and movie stars. J. Sheeler's "Seven Immortals" finds grim poetry in a young girl's gang initiation. Jaha Zainabu's "The Jungle (Blood Territory)" is a lacerating portrait of an L.A. Blood. Commander's "The Brothas Gunnin'" piercingly profiles a neighborhood — and a world — under siege. These writings give voice to an American subculture far richer and more complex than the headlines indicate.