| | |
| --- | --- |
| | |
Away: The Indian Writer As an Expatriate written by Amitava Kumar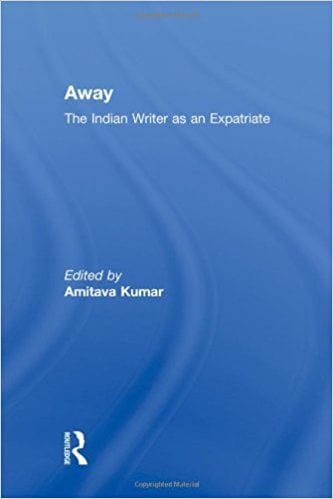 Book Buying Options
Buy Digital Book
Only $99.99

Buy Audio Book
Only $199.98

Title:
Away: The Indian Writer As an Expatriate
Category:
Literary Studies
>>
Criticism
Category:
Asian

Author:

Amitava Kumar


Publisher:

Taylor & Francis, Inc.


Date Published: October 2003
ISBN-13:

9780415968966


ISBN-10: 0415968968
Synopsis:
In the past twenty years, Indian writers have won wide praise in the West. Many of the best live outside the Subcontinent - in England, the United States, and Canada. Away brings together great writing by figures from South Asia who give voice to the experience of the exile and the emigrant. R.K. Narayan writes of his first visit to America. Rabindranath Tagore, winner of the Nobel Prize for Literature, writes of his first trip by airplane. Salman Rushdie eats "the eggs of love" in a Sandinista camp in Nicaragua. V.S. Naipaul describes his sister's funeral ceremony in Trinidad, while the poet Sarojini Naidu sends love letters home to her husband. The memoirist Ved Mehta recounts applying for an American visa. The rising politician Jawaharlal Nehru asks for news from India as he travels across the world campaigning for freedom. This star-studded list of contributors also includes Hanif Kureishi, Rohinton Mistry, Meera Syal, and others. Amitava Kumar's introduction beautifully sets out the complex feelings that animate the writings that follow. Away is a feast.
Table of Contents:
| | | |
| --- | --- | --- |
| | Acknowledgements | |
| | Introduction | |
| | England | 3 |
| | Good Advice is Rarer Than Rubies | 31 |
| | A to Z Street Atlas | 38 |
| | Goodbye Party for Miss Pushpa T. S. | 54 |
| | Advertisements in Brighton 1822-38 | 59 |
| | My First Visit to England | 67 |
| | Letters and Notes | 73 |
| | In England and South Africa | 87 |
| | Letters | 118 |
| | The Sum Total of Good I Can Do | 127 |
| | In the Modern World | 144 |
| | Lions and Shadows in the Sherry Party in Harold Monro's Poetry Bookshop | 160 |
| | Red Indians in England | 172 |
| | My America | 201 |
| | Changes of Scenery | 205 |
| | Speaking in Tongues | 213 |
| | Naturalized Citizen No. 984-5165 | 222 |
| | Some Indian Uses of History on a Rainy Day | 244 |
| | The Ceremony of Farewell | 247 |
| | Eating the Eggs of Love | 258 |
| | Two Ways to Belong in America | 271 |
| | Wild Women, Wild Men | 275 |
| | The Cowpath to America | 280 |
| | Oxford | 301 |
| | Indoor Language | 313 |
| | Gold Emporium | 329 |
| | The First Letter Home | 334 |
| | Vegetarian Summer | 337 |
| | When on Route 80 in Ohio | 341 |
| | Swimming Lessons | 343 |
| | The Imam And I | 364 |
| | Flight | 370 |
| | There's No Place Like Home | 379 |
| | Notes on Contributors | 389 |
| | Copyright Acknowledgements | 397 |