| | |
| --- | --- |
| | |
Androgyny in Late Ming and Early Qing Literature written by Zuyan Zhou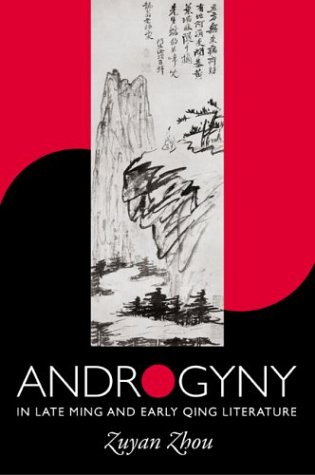 Book Buying Options
Buy Digital Book
Only $99.99

Buy Audio Book
Only $199.98

Title:
Androgyny in Late Ming and Early Qing Literature
Category:
Literature
>>
Asian
>>
Anthologies
Category:
Psychology & Literature

Author:

Zuyan Zhou


Publisher:

University of Hawaii Press, The


Date Published: April 2003
Edition:

New Edition


Pages: 280
ISBN-13:

9780824825713


ISBN-10: 0824825713
Overview:
"The frequent appearance of androgyny in Ming and Qing literature has long interested scholars of late imperial Chinese culture. A flourishing economy, widespread education, rising individualism, a prevailing hedonism - all of these had contributed to the gradual disintegration of traditional gender roles in late Ming and Qing China (1550-1750) and given rise to the phenomenon of androgyny. Now, Zuyan Zhou sheds new light on this important period, offering a highly original and astute look at the concept of androgyny in key works of Chinese fiction and drama from the sixteenth to the eighteenth centuries." Based on in-depth readings, exhaustive reasearch in Chinese and English secondary sources, and analytical approaches from Western cultural criticism, Androgyny in Late Ming and Early Qing Literature will be welcomed by students and scholars of gender studies as well as those interested in Chinese literature and history.
Synopsis:
Revising his doctoral dissertation for Washington University in St. Louis (no date cited), Zhou (Chinese language and literature, Hofstra U.) contributes to the recent surge of scholarly interest in gender deviation in late-imperial Chinese literature. He traces a trend of androgeny, as he defines it, in canonical literature between approximately 1550 and 1750. Annotation (c)2003 Book News, Inc., Portland, OR
Table of Contents:
| | | |
| --- | --- | --- |
| | Acknowledgments | |
| | Introduction: Androgyny Defined | 1 |
| 1 | Androgyny in Chinese Philosophy | 7 |
| 2 | Gender Ambiguity in Late Ming and Early Qing Culture | 15 |
| 3 | The Plum in the Golden Vase: A Prelude to the Androgyny Craze | 47 |
| 4 | The Peony Pavilion: A Paean to the Androgynous Ideal | 69 |
| 5 | Scholar-Beauty Romance Idealistic Expression of the Androgynous Vision | 95 |
| 6 | The Peach Blossom Fan: An Ambivalent Hymn to Political Androgyny | 127 |
| 7 | The Dream of the Red Chamber: A Shattered Dream of Androgyny | 155 |
| 8 | Conclusion: Androgyny as Literary Trend and Strategy in Fashioning Chinese Literati Identity | 199 |
| App | Symbolic Values and Gender Associations of Some Flowers and Plants in Chinese Literature | 211 |
| | Notes | 215 |
| | Glossary | 283 |
| | Selected Bibliography | 287 |
| | Index | 313 |