| | |
| --- | --- |
| | |
A Hoosier Sampler: An Anthology of Indiana Writers written by James A. Huston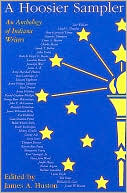 Book Buying Options
Buy Digital Book
Only $51.00

Title:
A Hoosier Sampler: An Anthology of Indiana Writers
Category:
Literature
>>
Collections

Author:

James A. Huston


Publisher:

University Press of America


Date Published: March 2000
ISBN-13:

9780761816140


ISBN-10: 0761816143
Synopsis:
In "A Hoosier Sampler," James A. Huston provides a thorough compilation of the works of some of Indiana's most notable writers. Huston brings to the foreground such world renowned authors as Lew Wallace, Lloyd C. Douglas, Charles Major, Kurt Vonnegut, and James Whitcomb Riley among others to produce a comprehensive volume of great works that provides the true flavor of each author's style as well as interesting, enjoyable, and instructive reading. Covering nearly every accomplished Indiana writer, this anthology will be of great use to students and professors of literature as well as the general reader.

Author Biography: James W. Huston is a native of Fairmount, Indiana. He is a former history professor at Purdue University and he is a former faculty member of the Naval War College and the National War College as well as Dean of Lynchburg College in Virginia.
Table of Contents:
| | | |
| --- | --- | --- |
| | Acknowledgements | |
| | Preface | |
| | Ben-Hur | 1 |
| | The Robe | 35 |
| | When Knighthood was in Flower | 46 |
| | Curfew Must Not Ring Tonight | 63 |
| | Alice of Old Vincennes | 66 |
| | Counterpoint | 83 |
| | The Bears of Blue River | 101 |
| | Poems | 108 |
| | The Hoosier's Nest | 121 |
| | The Hoosier Volunteer | 127 |
| | Knights in Fustian | 137 |
| | The Friendly Persuasion | 149 |
| | Violet Storm | 166 |
| | Raintree County | 185 |
| | The Hoosier Schoolmaster | 198 |
| | The Little Colonel | 209 |
| | On the Banks of the Wabash | 215 |
| | An Idyl of the Wabash | 217 |
| | The Great God Success | 225 |
| | Brewster's Millions | 242 |
| | The House of a Thousand Candles | 249 |
| | Selected Poems | 270 |
| | Injun Summer | 292 |
| | Abe Martin's Almanack | 295 |
| | A Girl of the Limberlost | 301 |
| | Saint Josephine | 320 |
| | Counsel for the Defense | 337 |
| | Penrod | 350 |
| | The Magnificent Ambersons | 363 |
| | Alice Adams | 374 |
| | Adventures of Raggedy Ann | 383 |
| | The College Widow | 388 |
| | Nettie | 411 |
| | The County Chairman | 426 |
| | The Trail of Glory | 436 |
| | Magnificent Obsession | 445 |
| | An American Tragedy | 451 |
| | Selected Poems | 477 |
| | Angel in the Forest | 489 |
| | Slaughterhouse-Five | 499 |
| | The Snake Pit | 506 |
| | The Desperate Hours | 511 |
| | The Man with the Golden Arm | 516 |
| | A Severe Mercy | 525 |
| | The Riddle of Genesis County | 537 |
| | The Final Deduction | 550 |
| | In the Heart of the Heart of the Country | 556 |
| | Balance of Power | 571 |
| | Index of Authors and Titles | 588 |