| | |
| --- | --- |
| | |
When Continents Collide: Geodynamics and Geochemistry of Ultrahigh-Pressure Rocks written by Hacker, Bradley , Liou, J. G.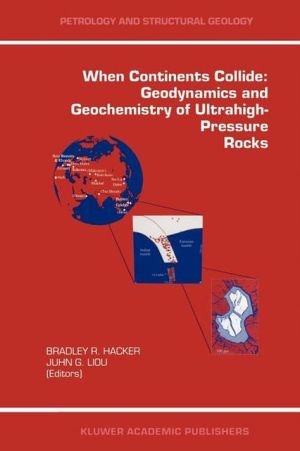 Book Buying Options
Buy Digital Book
Only $212.42

Buy Audio Book
Only $424.84

Title:
When Continents Collide: Geodynamics and Geochemistry of Ultrahigh-Pressure Rocks
Category:
Rocks
Category:
Minerals & Gems
Category:
Mineralogy

Author:

Hacker, Bradley , Liou, J. G.


Publisher:

Springer-Verlag New York, LLC


Date Published: 12/3/2010
Edition:

1


Pages: 336
ISBN-13:

9789048140282


ISBN-10: 9048140285
Overview:
2Gpa has increased to more than 15.
This indicates that subduction of continental fragments to depths of 100-150 km may have played a significant role in the formation of mountain belts.
This volume brings together the geochemical, geophysical and geodynamical approaches to study the processes active during ultrahigh-pressure (UHP) tectonics.
The collection of papers demarkates the frontier of our understanding of the creation, preservation, and exhumation of ultrahigh-pressure rocks.
Audience: This volume will be of interest to any earth scientist interested in ultrahigh pressure processes and the formation and modification of continental crust.
Table of Contents:
Preface. 1. Active Crustal Subduction and Exhumation in Taiwan; C.H. Lin, S.W. Roecker. 2. Melting of Crustal Rocks During Continental Collision and Subduction; A.E.P. Douce, T.C. McCarthy. 3. Rheology of crustal Rocks at Ultrahigh Pressure; B. Stöckhert, J. Renner. 4. Thermal Controls on Slab Breakoff and the Rise of High-Pressure Rocks During Continental Collisions; J.H. Davies, F. von Blanckenburg. 5. Exhumation of Ultrahigh-Pressure Rocks: Thermal Boundary Conditions and Cooling History; B. Grasemann, et al. 6. Active Tectonics and Ultrahigh-Pressure Rocks; A.E. Blythe. 7. K-Ar (40Ar/39Ar) Geochronology of Ultrahigh Pressure Rocks; S. Scaillet. 8. Geochemical and Isotopic Characteristics of UHP Eclogites and Ultramafic Rocks of the Dabie Orogen: Implications for Continental Subduction and Collisional Tectonics; B.M. Jahn. 9. Stable Isotope Geochemistry of Ultrahigh-Pressure Rocks; D. Rumble. 10. Tracing the Extent of a UHP Metamorphic Terrane: Mineral-Inclusion Study of Zircons in Gneisses from the Dabie Shan; H. Tabata, et al. 11. H2O Recycling During Continental Collision: Phase-Equilibrium and Kinetic Considerations; W.G. Ernst, et al. 12. Influence of Fluid and Deformation on Metamorphism of the Deep Crust and Consequences for the Geodynamics of Collision Zones; H. Austrheim.