| | |
| --- | --- |
| | |
Illite: Origins, Evolution and Metamorphism written by Meunier, Alain , Velde, Bruce D.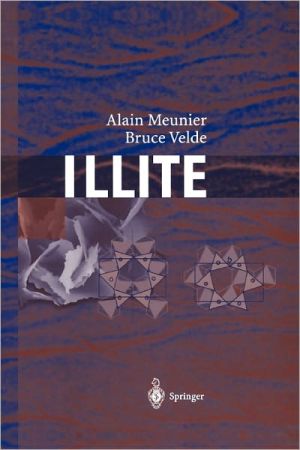 Book Buying Options
Buy Digital Book
Only $157.41

Buy Audio Book
Only $314.82

Title:
Illite: Origins, Evolution and Metamorphism
Category:
Mineralogy
Category:
Analytical Chemistry
>>
General & Miscellaneous

Author:

Meunier, Alain , Velde, Bruce D.


Publisher:

Springer-Verlag New York, LLC


Date Published: 12/1/2010
Edition:

1


Pages: 302
ISBN-13:

9783642058066


ISBN-10: 364205806X
Overview:
This monograph examines the mineralogy of illite, the most common clay mineral, as a unifying theme for understanding problems of the surface environment and environmental change. The volume begins with a careful analysis of the structure and transformation of illite. Using illite as the frame, the authors describe problems in soil chemistry, clay stability and clay kinetics in sedimentary rocks.
Table of Contents:
The Mineralogy of Illite: Illite Definitions; Definition based on Chemical Composition; Thermodynamic Stability of Illite; The Growth of Illite Crystals; Working Definition of Illite.- The Geology of Illite: Illite in Soils and Weathered Rocks; Illite in Diagnetic Series; Illite in Fossil and Active Geothermal Fields and Hydrothermal Alteration Zones; The Illite Age Measurement.- Dynamics of the Smectite to Illite Transformation: Experimental Studies; Kinetics of Experimental Transformations; The Bulk Composition Effect.- Kinetics of the Smectite to Illite Conversion Process in Natural Environments; Success and Failure of the Multiparameter Models; Stability Controls; Application of Kinetics to K-Ar Dating.- Applications: Exploration and Exploitation of Natural Resources; Environmental Problems.