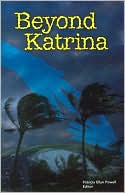 Title:
Beyond Katrina

Author:

Patricia Ellyn Powell


Publisher:

Arts & Healthcare Press


Date Published: December 2005
ISBN-13:

9781885711243


ISBN-10: 1885711247
Book Buying Options
Buy Digital Book
Only $49.99

Buy Audio Book
Only $99.98

Synopsis:
This book of poetry, quotes, and images inspired by Hurricanes Katrina and Rita which hit the Gulf Coast in August and September, 2005, is for all those whose lives have been forever changed by the power of nature and the kindness of human beings.

The Arts & Healthcare Initiative of the Arts Council of Central Louisiana is proud to publish this book that captures so vividly the thoughts shared by hurricane victims, volunteers and observers. We are located in Alexandria, Louisiana, about 240 miles north of New Orleans in the heart of Louisiana. At various times during this disaster, we housed upwards of 15,000 evacuees in homes, hotels and shelters. The volunteers with our Arts & Healthcare initiative spent thousands of hours in the shelters helping people express themselves through the arts and ultimately heal.

Proceeds from the sale of this book will go directly to help victims of the hurricanes.