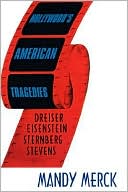 Title:
Hollywood's American Tragedies

Author:

M. Merck


Publisher:

Berg Publishers


Date Published: January 2007
ISBN-13:

9781845206642


ISBN-10: 1845206649
Book Buying Options
Buy Digital Book
Only $49.99

Buy Audio Book
Only $99.98

Synopsis:
Theodore Dreiser's dissection of the American dream, An American Tragedy, was hailed as the greatest novel of its generation. Now a classic of American literature, the story is one to which Hollywood has repeatedly returned. Hollywood's obsession with this tale of American greed, justice, religion and sexual hypocrisy stretches across the history of cinema. Three attempts by some of cinema's greatest directors--Sergei Eisenstein, Josef von Sternberg and George Stevens--have been made to bring this classic story to the screen. Subsequently, both Jean-Luc Godard and Woody Allen have returned to the story and to these earlier adaptations. This is the first detailed study of this extraordinary sequence of adaptations. What it reveals is a history of Hollywood--from its politics to its cinematography--and, much deeper, of American culture and the difficulty of telling an American tragedy in the land of the American dream.
Table of Contents:
1. An American Tragedy - Theodore Dreiser 2. A Monstrous Challenge to American Society - Sergei Eisenstein 3. A Courtroom Drama - Josef von Sternberg 4. Let the Audience See His Desire - George Stevens 5. Afterword.