| | |
| --- | --- |
| | |
Stay. Come, Heel. Everytime written by Kyle Warren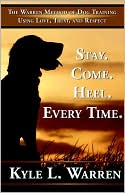 Book Buying Options
Buy Digital Book
Only $16.95

Buy Audio Book
Only $33.90

Title:
Stay. Come, Heel. Everytime
Category:
Animals
>>
Pets
Category:
Dogs

Author:

Kyle Warren


Publisher:

1st World Library


Date Published: January 2006
ISBN-13:

9781595409348


ISBN-10: 1595409343
Synopsis:
A dog is a valued family member that needs structure to cohabitate well with people. Like people, dogs are individuals and have different needs. Being aware of their unique profile will help in appropriately selecting, raising and caring for your companion. Basic canine psychology is discussed to assist the owner in developing an ideal working relationship, one of love, trust, and respect. Dog handling to a large extent is a physical skill; consistently presenting oneself with one uniform presentation demonstrates leadership qualities to a dog. The handler's techniques are described in detail, step by step, within the pages of this book. Further, we haven't forgotten about our pals with problems such as jumping, barking, destructiveness, and aggression. Utilizing Canine Instinct's teaching methods, we have outlined simple and effective strategies to resolve these common issues. Through anecdotes, that are fun and memorable, STAY. COME. HEEL will show you how to learn a canine's true mental and physical potential ..an experience and skill that few people have realized .until now. Enjoy the process.