| | |
| --- | --- |
| | |
La Llorona on the Longfellow Bridge: Poetry Y Otras Movidas written by Alicia Gaspar De Alba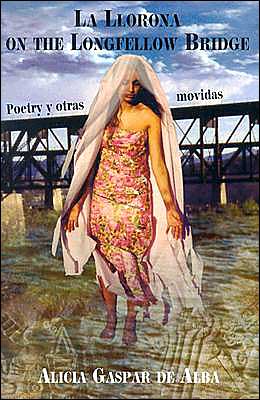 Book Buying Options
Buy Digital Book
Only $99.99

Buy Audio Book
Only $199.98

Title:
La Llorona on the Longfellow Bridge: Poetry Y Otras Movidas
Category:
Peoples & Cultures
>>
American Anthologies

Author:

Alicia Gaspar De Alba


Publisher:

Arte Publico Press


Date Published: January 2003
Pages: 128
ISBN-13:

9781558853997


ISBN-10: 1558853995
Overview:
Cultural Writing. Poetry. Essays. As a leading interpreter of border life and culture, Allicia Gaspar Alba, a lesbian chicana poet, storyteller, and essayist explores the borders and limits of place, body, and language through a painful series of moves and losses. In sections divided into each of the places she visited in her travels, Alba incorporates the Mexican archetypal wailing woman who wanders in search of her lost children. LA LLORONA proves to be more than an archetype: it is a tour guide through the constant presence of the poet's voice. Alicia Gapar de Alba is also the co- editor of AZTLAN: A JOURNAL OF CHICANO STUDIES and the author of the acclaimed novel Sor Juana's Second Dream (University of New Mexico Press, 1999), and The Mystery of Survival and Other Stories (Bilingual Review Press, 1993). She is a professor of Chicano/a Studies and English at the University of California Los Angeles.
Table of Contents:
| | | |
| --- | --- | --- |
| | Tracking La Llorona | |
| | Crooked Foot Speaks/Habla Pata Chueca | 3 |
| | In the Shadow of Greater Things | 7 |
| | After 21 Years, A Postcard from My Father | 9 |
| | Dust to Dust | 11 |
| | Holy Ground | 13 |
| | The Philosophy of Frijoles | 17 |
| | Gardenias for El Gran Guru | 19 |
| | 70 Moons | 22 |
| | Bamba Basilica | 23 |
| | Caldo de Pollo | 25 |
| | Confessions | 27 |
| | Pilgrim's Progress | 30 |
| | Sor Juana's Litany in the Subjunctive | 32 |
| | Listening to Our Bones | 34 |
| | Karmic Revolution | 36 |
| | Galloping | 38 |
| | Literary Wetback | 40 |
| | Adirondack Park | 47 |
| | Swimming in Limekiln Lake | 49 |
| | Waking Up in Ontario: Reward | 50 |
| | The Niagara River Speaks Three Languages | 52 |
| | Rainstorm: The Gorge | 55 |
| | Piseco Lake | 56 |
| | Point Comfort: Coming Home | 57 |
| | Autumn Equinox in the Sandias, 1990 | 61 |
| | Bluebirds | 63 |
| | Chamizal | 65 |
| | Name that Border | 69 |
| | The Waters of Grief | 77 |
| | Huitlacoche Crepes | 80 |
| | Neighbors | 83 |
| | Descarada/No Shame: A[bridged] Politics of Location | 85 |
| | Carmen's Song | 95 |
| | Blackjack | 99 |
| | Culto a la Muerte | 101 |
| | Witch Museum | 103 |
| | Kyrie Eleison for La Llorona | 106 |
| | Eclipse (September 11th) | 109 |
| | El Encuentro | 112 |
| | Acknowledgments | 116 |